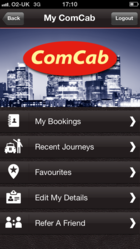 The first iPhone App from ComCab puts London's largest fleet of licensed taxis into the palm of your hand.
(PRWEB UK) 15 March 2013
London's largest licensed taxi fleet is now available to the consumer market through the ComCab taxi booking App which was released on 11 March 2013. The App is available for free in the App store and allows for immediate access to safe and reliable taxis anywhere in London (including all of the suburban boroughs) 24 hours a day, 7 days a week. The new App allows customers to track their taxi on a map displayed on their phone, as well as provide an estimated arrival time.
The App is available on all iOS 5 and iOS 6 operating systems which means the ComCab App is available for download on iPhone, iPad, and iPod Touch. The ComCab London App will launch on most other mobile platforms within the next few months.
The ComCab App is unique in that you do not need to register to make a booking, and the Quick Book function allows for quick and easy ASAP taxi requests. However, more regular taxi bookers can register a credit card for simple, convenient and secure payment of their cab fares. All ComCab taxis feature in-vehicle Chip & Pin credit card facilities which also accept the latest 'Tap & Go' contactless cards. All ComCab taxi fares are regulated by Transport for London.
The App also features a 'Favourites' facility to save your most popular pick up and destination points and allows simple re-booking of recent trips. The ComCab fleet exists in all 33 London boroughs, so for once this is a taxi App that services more than just Central London. Unlike other taxi Apps that take a cut of the driver's fare, ComCab can provide a more assured service as all of the passenger's fare goes directly to the driver, meaning the taxi drivers provide a more robust service.
The App will be heavily promoted through social media sites such as such as Facebook for regular competitions and Twitter for information updates such as travel news and latest offers.
About the company:
ComCab was founded in London in 1974 and became part of the ComfortDelGro Corporation in 1997. Its award winning service has seen ComCab secure the London Transport Award twice and the SCOPE Platinum Access Equality Award, in recognition of its highly accessible transport facilities. It was the first taxi company to attain ISO14001 environmental certification and has secured the prestigious Sunday Times Best Green Companies Award three years running.
For further information please visit - http://www.comcablondon.co.uk/app/ or https://www.facebook.com/ComCabLondon