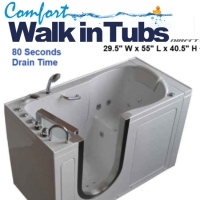 Building an online presence while marketing for the upper range of the demographics poses a serious disadvantage but offers exceptional rewards.
Los Angeles, CA (PRWEB) February 10, 2012
Comfort Walk in Tubs, a supplier and installer of walk in bath tubs for the elderly announces the annual report of their lead generation for online marketing in 2011. For the entire year of 2011, the company received 5475 sales inquiry from their online clients. 4107 of this leads comes from search engine paid advertisements, 64% of which originated from Google and 36% of which comes from Bing. 822 online leads come from local directory pages arriving through organic searches. The remaining 546 online leads come from different sources comprising mostly of online discussion forums, social networking sites and minor search engines.
Mel Newman, the Senior Sales Director of Comfort Walk in Tubs, in an interview relates, "Our Company decided to choose the internet for promotion over the traditional media despite oppositions from stockholders because of flexibility of budget and lack of fierceness in competition. Television and print advertisements for walk in tubs, for example, are already saturated as well as expensive. We are releasing this lead generation report to the public to show of our accomplishment and to guide the industry."
Andro Dayao, the Lead Generation Analyst of Comfort Walk in Tubs, believes that older adults react favorably into paid search advertising as shown in their lead generation report. Search Engines like Google, Bing and Yahoo comprise 75% of the company's lead generation. As stated by company's analyst, "Success of an online business that promotes products and services for the elderly should always incorporate Search Engine Marketing strategy".
Aside from paid search engine promotion, the company also garnered leads from local directory listings. In the interview, Mel Newman further relates, "Since the company offers installation service locally, and walk in tub clients rely on local companies to service their needs, the company ensures that their business listings on Google Places, Bing Business Portal and Yahoo Local are both complete and enticing."
The Company also actively participates in specialized online discussion forums where active seniors can be found frequently for their hobbies and everyday activities. Furthermore, the Company believes that social media such as Facebook and Twitter serve as an additional source of leads and community support for the future.
When questioned on how the company build online credibility. Mel Newman relates, "Trust ratings from independent organizations help build online reputations. In this connection, Comfort Walk in Tubs adheres to Better Business Bureaus' (BBB) high standard for ethical marketplace behavior. BBB also allows online clients to check online company credentials. Comfort Walk in Tubs made sure of a BBB accreditation and consistently follows its guidelines and best practices suggestions." BBB assisted the Company on one occasion by means of serving as an arbiter in one customer's complaint resolution. BBB, through its review site Trust Link, also provides independent reviews and testimonials from the Company's clients. The complaint resolution and the independent testimonials can be found publicly on BBB and Trust Link websites.
About Comfort Walk in Tubs
Comfort Walk in Tubs conducts its business at their mortar and brick office in Los Angeles, California but relies immensely on the internet for their lead generation. Comfort Walk in Tubs is the nation's leading provider of affordable high quality walk in tubs for seniors and provide expert installation of walk in tubs in South California.
###