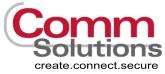 Create. Connect. Secure.
Malvern, PA (PRWEB) April 26, 2013
Comm Solutions Company today announced their full service, multi-use demo lab is now open to showcase vendor solutions for both training and demonstration purposes. The newly updated demo lab allows Comm Solutions to keep pace with today's ever-changing technology and allow for their clients to make the most educated decisions about the technologies within their environments. With the increasingly complex infrastructures seen within businesses varying from SMB to enterprise, it is important to comprehend how these integrated solutions work in a real-life environment while comparing technologies side by side. Enterprise network security is of utmost importance, the demo lab gives clients the ability to demonstrate performance and efficiency prior to deployment.
Comm Solutions' demo lab currently houses equipment to be utilized in delivering: Palo Alto Networks certified training, as well as demonstrating Palo Alto Firewalls and other Networks product features, user interface, and specific configurations. The demo cloud showcases the rich user experience that Citrix Receiver delivers via the Cloud Gateway and how BYOD can be fully realized. A vendor agnostic Mobility/Wireless environment demonstrates the capabilities of Aruba Network's ClearPass platform that includes, but is not limited to, wireless guest self-registration, onboarding BYOD devices, and health/posture checking. These workflows can be demonstrated on wireless infrastructure from Aruba and Cisco and wired access from Aruba, Cisco, HP, Enterasys, Avaya and more.
A NetApp SAN (virtual appliance) presents the NetApp System Manager Interface and basic overview, as well as the NetApp SAN Protection Suite (virtual appliance to virtual appliance). To find out more about Comm Solution's demo lab's capabilities, please contact info[at]commsolutions[dot]com.
Comm Solutions Company is an end-to-end technology solutions provider specializing in the design, development, deployment and support of enterprise level solutions. Comm Solutions' architects and implements IT solutions spanning computing infrastructure, enterprise management and security. Our strategic partners offer best of breed solutions that allow us to provide the most advanced results to our clients.
"Comm Solutions has dedicated our highly trained resources to testing and fine-tuning the technology's featured in our demo lab to allow for the most efficient demonstrations for our customers," notes William F. Buckalew, Chief Operating Officer of Comm Solutions. "We feel that the ability to showcase our solutions in a real world environment allows for our customers to fully understand the technological capabilities that may be deployed in their environment."
About Comm Solutions Company
Comm Solutions works with our clients to architect and deploy simpler technologies that allow you to do more with less. The company was founded in 2002 (Communication Cable Company established in 1974) and is currently headquartered in Malvern, PA. For real-time news updates follow Comm Solutions on Twitter, Facebook and YouTube. Comm Solutions maintains excellent alliances with "Best in Class" technology vendors. To see a full list of our partners please visit http://www.commsolutions.com. The highly skilled and certified specialists at Comm Solutions understand how to leverage these technologies to shorten deployment cycles. As advocates for clients, Comm Solutions strategically aligns their clients' business and IT objectives to provide the best overall value and ROI on technology deployments. Our core competencies include Infrastructure, Virtualization/Cloud, Storage/Data Protection, Systems/Management, Information Security, Unified Communications, Secure Wireless, Mobility, WAN Optimization and Professional Services.