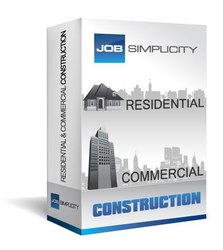 I think a lot of commercial builders & contractors are beginning to see how they can leverage technology to improve efficiency and maximize profit
Calgary, Canada (PRWEB) February 15, 2011
HomeFront Software™, a developer of home building and construction management software, reports that attendee response to their exhibit at the recent World of Concrete trade show in Las Vegas confirms the growing demand by commercial contractors for an affordable Construction Management System. The Commercial Edition of HomeFront's flagship product, Job Simplicity, provides complete construction management with estimating, job costing, and scheduling capabilities in a single solution that plugs right into popular accounting software like QuickBooks and Simply Accounting by Sage.
According to HomeFront CEO Daryl Shenner, enthusiasm among commercial contractors for affordable construction management software like Job Simplicity is a matter of timing. "The recent slowdown has given the construction industry an opportunity to examine their existing systems and methods, and make improvements as necessary. I think a lot of commercial builders & contractors are beginning to see how they can leverage technology to improve efficiency and maximize profit." Shenner adds, "And with Job Simplicity's plug-and-play integration with QuickBooks, commercial contractors are up and running from Day One without sacrificing the familiarity of their existing accounting system."
Shenner adds that technology is much more affordable now and small commercial contractors of all sizes have access to capabilities once restricted to big construction companies with deep pockets. "Small builders can manage everything from bidding to building in one affordable, out-of-the-box application. And by plugging Job Simplicity into QuickBooks or Simply Accounting, unnecessary issues like duplicate data entry, errors, lost change orders, or outdated spreadsheets are totally eliminated. Put simply, it makes commercial construction more profitable."
For over 15 years, HomeFront Software has set the pace for software innovation, earning its place as a leading provider of essential construction management tools. When commercial contractors integrate Job Simplicity with their existing QuickBooks accounting software, they have immediate access to the right information at the right time. They gain the ability to manage and track workflow and daily operations, enabling them to operate more efficiently and profitably.
Visit http://www.jobsimplicity.com/commercial-software.html for information about the Commercial Edition of Job Simplicity or to watch a 2-minute self-running video demonstration and see first hand what Job Simplicity can do for commercial contractors.
About HomeFront Software
HomeFront Software, based in Calgary, Canada, is a leading home builder management solutions provider that offers a complete solution for the entire home building process from one, easy-to-use software system. HomeFront provides home builders of all sizes with the real-time information necessary to make the business decisions that will maximize profits before, during, and after construction. HomeFront is a collaborative effort of technology experts who have been working in the residential building industry for over 20 years. The company was created to provide home builders with the tools they need to manage their businesses and WIN in today's competitive residential market. Visit http://www.Homefront-Software.com for more information online.
###