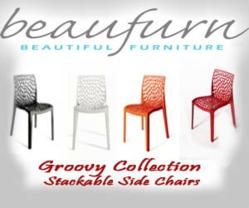 These Groovy chairs are amazing comfortable, contemporary in styling and add a surprising design element whether used in an outdoor terrace, a garden cafe or indoor food court.
Winston Salem, NC (PRWEB) January 31, 2012
Beaufurn, LLC (http://ww.Beaufurn.com) is proud to introduce a new product line, a hot new collection of stackable side chairs, called Groovy Collection.
These contoured polypropylene chairs are sturdy and suitable for both indoor and outdoor use. They stack six high for easy storage and are available in five color: crystal clear, solid white, red, orange, and charcoal black.
Beaufurn's president Bill Bongaerts reports, "These Groovy chairs are amazing comfortable, contemporary in styling and add a surprising design element whether used in an outdoor terrace, a garden café or indoor food court. The heavy duty, all-weather polypropylene construction makes them perfect for high traffic applications."
Polypropylene stacking chair or Polyprop is a chair manufactured in an injection moulding process using polypropylene. The first Polypropylene chair was designed by Robin Day in 1963 for S.Hille & Co. It was so iconic. It was selected as one of eight designs in a 2009 series of British stamps of "British Design Classics." Today, Polypropylene stacking chairs are among the most popular commercial stacking chairs around the world for school, hospital, airport, canteens, restaurants, arenas, hotels, as well as homes.
When space-saving is necessary and when furniture needs to be easily stored when not in use, stacking chairs have proven to be an advantageous choice. With their small footprint and stackable design, these chairs are a popular choice for many businesses including hotels, schools, clubs, restaurants, universities, theaters, and auditoriums. They are also convenient, with their main benefit being that the chairs can easily be put out with their lightweight design; when they are not needed anymore, they can then be stacked and put away in a small space. With the ability to quickly store the chairs, it allows for the space to be used again for other purposes or when cleaning is needed.
Beaufurn's transparent and solid contoured polypropylene chair is of amazing comfort and fun. These stacking chairs are sturdy in construction and can hold up to the wear and tear of consistently being moved and stacked. They are more comfortable to sit on. They have a lightweight design which allows them to be moved from one place to another with minimal effort and are small enough to fit in just about anywhere. Beaufurn's Groovy chairs are also designed for both indoor or outdoor usage, allowing the purchaser to get the most for their money whether they are needed for an indoor lunch one day or for an outdoor wedding the next. They are designed to be able to hold up to continuous moving and shifting with their rugged construction although some materials are better than others for this. No matter the size of the event, their small foot print allows for these chairs to accommodate more guests than other pieces of furniture would.
ABOUT BEAUFURN
Founded in 1996 and headquartered in Winston-Salem, North Carolina, Beaufurn, LLC supplies high-quality, innovatively designed furnishing solutions to hotels, restaurants, universities, airports, food courts, coffee shops and commercial customers worldwide.
When choosing cafe furniture, restaurant furniture, restaurant chairs, bistro tables, lounge furniture, café tables, patio chairs etc. for hotel, restaurant, bistro, bar, night club, lounge, café, patio, country club, college dormitory – quality and durability are paramount. For years, Beaufurn has been manufacturing distinctive custom wholesale commercial furniture for leading businesses and institution around the world. Beaufurn's furniture is American-made, produced in North Carolina to exacting standards, yet available at economical wholesale price, ready for shipment to any location.
###