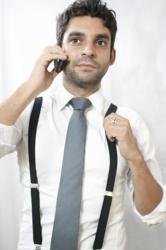 ... they are confident enough to invest in their business by taking out a small business loan...
Miami,Fl (PRWEB) December 18, 2012
Small business in the United States may be in an optimistic state of mind, because the Thomson Reuters/PayNet Small Business Lending Index reported an increase from 96.4 to 107.5 this last October. This new report indicates the volume of financing to American small businesses. In the same arena, borrowing is also up 11% as compared to last year.
Here is what commercial hard money lender in Florida and owner of Quick Action Mortgage, Jeff Karr, had to say about the increase in small business lending:
"I always like to hear good news about our economy, after all, who doesn't? I have been a proud member of the Florida hard money industry for over 20 years now, so I follow the heartbeat of the economy as a matter of practice. Now, as a mortgage broker, I have noticed an increase in the volume of callers inquiring about commercial loans. If that indicates anything, it would be that these hardworking men and women are ready to expand their businesses. I must say that I truly believe that it would be great to see a strong revival in America's small businesses.''
Jeff Karr may not be the only one happy to see strong small businesses in the United States. He comments, "This very well could be a sign that these small businesses may start hiring, because they are confident enough to invest in their business by taking out a small business loan. No one makes that sort of decision without adequate deliberation. It could be ascertained that this business owner wants to take his business somewhere, and hopefully he will hire on people to help grow it. The creation of new jobs would be the icing on the cake, and we will all have to wait and see what the new job reports will indicate. Let's hope it is something good."
While it is nice that this recent survey shows a positive improvement, the continuing months of this year will paint a larger picture of the fate of small businesses in America. Yet, people do not have to wait idly as mega corporations earn billions of dollars. Anyone can spend their money at local mom-and-pop establishment and start a revival of small businesses in the United States if they wish to show their support, Karr says.
About Jeff Karr, Quick Action Mortgage:
Jeff Karr is the owner and president of Quick Action Mortgage, a licensed Miami based hard money mortgage business serving Miami, Broward County, Dade, Palm Beach, Port St. Lucie, and the Florida Keys. They can be contacted directly at (305) 232-7817 or visit http://www.fkmortgage.com/ .
This press release was written and distributed by Justin Kunst of Local SEO Services for Businesses. Justin Kunst owns and develops internet properties for local and international businesses. However a business operates, Justin Kunst makes the internet produce income. Click here for more information.