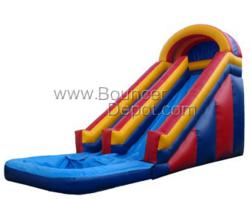 Commercial Grade inflatable Water Slide
(PRWEB) January 07, 2012
Year after year the top New Year's resolution has to do with losing weight and getting into shape. Each January people are flooded with advertisements touting the next big diet or exercise gadget promising to give them the body of their dreams. It turns out that more people are shying away from gimmicky exercise equipment and turning to a rather unconventional, yet effective piece of workout equipment – the inflatable bounce house.
Fitness professionals say that people who have fun while working out have a greater chance of sticking to a fitness regimen. What's more fun than jumping up and down inside of a commercial inflatable jumper? Commercial bounce houses for sale can be found for inexpensive prices that most people can afford according to Bouncer Depot Spokesman Steve Johnson. Johnson says, "Bounce houses aren't just found at the local county fair anymore. There are smaller models that can be used by individual families all year round – even during the winter."
Bouncer Depot sells items like wholesale inflatable jumpers, inflatable slides, and moonwalks to families and organizations all over the world. Johnson goes on to say that jumping in a bounce house provides a great workout and is a great way for families to have fun together. "You really work up a sweat without even realizing it."
Experts say that people can burn up to three times the number of calories jumping on a treadmill than doing activities like jogging on a treadmill. Those numbers bode well for the bounce house because it acts just like a trampoline.
Bouncer Depot not only sells traditional commercial inflatable jumpers to organizations and individuals, they also have expanded their line to include innovative designs that provide a great workout such as a giant inflatable dodge ball arena, indoor moon bounce obstacle course, inflatable racetrack, and even an inflatable soccer arena. Their leading design team can also create custom inflatable jumpers upon request. All of their bouncers come with 30 day money back guarantees and the option to finance the bounce house through them directly. Bouncer Depot also offers 3 year seam to seam warranty on all inflatables including water slides and other water play structures.
So it turns out that the next big fitness craze workout may not be at the local gym, but inside one of Bouncer Depot's commercial bounce houses for sale. For people looking to stay cool during their workout; the company also has commercial inflatable water slides for sale too.
About Bouncer Depot:
Founded over 10 years ago, Bouncer Depot is now considered to be the leading bounce house manufacturer in the country. Using cutting edge technology, a strong design team and innovative design concepts, Bouncer Depot produces the largest selection of inflatable water slides, wholesale inflatable jumpers and obstacles available in today's marketplace. Their commercial inflatable jumpers are currently bringing fun and joy to people in countries all over the world. The company is proud to manufacture all products within the U.S.A. For more information about Bouncer Depot, please visit BouncerDepot.com.
###