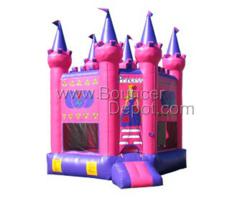 Made in USA Commercial Inflatable Bounce Houses
Los Angeles, CA (PRWEB) December 17, 2011
Bounce houses have long been a very popular item for children. Whether they were being rented for a party or parents were purchasing them for their backyards, kids always lined up for a fun afternoon. However, information regarding safety and quality about commercial inflatable jumpers has never been as readily available as it is with the launch of the new FAQ page and blog from Bouncer Depot.
The new FAQ page is by far one of the most informative available on the subject of bounce houses and commercial inflatable water slides. Parents and local business owners interested in adding bouncers will find every question they need answered. Information is available regarding things such as how to set up the bouncers, how to start your own bounce house business, insurance rates and providers, commercial inflatable financing companies and so on. Simply put, this is one stop information archive for anyone needing to know anything about commercial inflatable bouncers.
In addition, the site is also excited to announce the launch of a new blog. It offers readers an inside look at many of the new products, such as the latest bounce houses and inflatable water slides for sale. Even more important, it offers everyone an opportunity to have real interaction with the owners of Bouncer Depot and ask them any questions they might have regarding a product before actually making a purchase. All they need to do is find a post relevant to their items and make a comment.
Both the blog and FAQ page are the manufacturer's latest efforts to show consumers that their concerns are being addressed. The FAQ page itself is comprised of the most pressing questions from clients and possible business owners. The blog will continue to review the latest inflatable products and offer advice to potential rental and kids entertainment complex owners.
As one of the leading manufacturers of bounce houses and inflatable water slides, the company thought it was necessary to show an increased presence to help both consumers and business owners learn more about the products which are sold. By providing these new informative media outlets, they will be providing a service for possible clients, but also a new way to drive sales.
In offering realistic business advice and product reviews on the blog, they will be able to build a more trustworthy relationship with consumers. By providing truthful answers to questions on the FAQ, potential business owners know they can come to them for not only business supplies, but also for solid business advice that will help them succeed.
About: Bouncer Depot is a manufacturer of bouncers and commercial inflatable water slides. All products are made 100% in the United States and backed by a 3-year warranty. Products come direct from the bounce house manufacturer and are available for customization. To find out more about the company and the latest news please visit our website at http://www.BouncerDepot.com
###