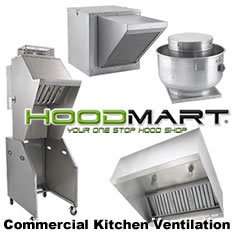 One very important factor to consider is an equipment warranty
Cambridge, OH (PRWEB) October 13, 2010
Starting a restaurant? Small business owners may be finding out that buying restaurant equipment and commercial kitchen hoods in particular, is not as simple a task as they once thought. Used restaurant hoods and used exhaust fans as well as other types of used restaurant equipment might appear as a cheap alternative to buying new, if pricing is an issue. However, there are some important things these aspiring entrepreneurs should consider first, like what it will cost them financially in the long run?
"One very important factor to consider is an equipment warranty" said Pat Ranch, customer service manager at HoodMart.com. Typically used commercial kitchen hoods and fans are sold 'as is'. Although the hoods may have been steam cleaned and look good on the outside, this does not mean they will pass code or work properly, and then what?
Still thinking used restaurant equipment is a good idea? How old is the vent hood and fan? Many times and more likely than not, replacement parts have to be found, that might not be available. What is the voltage of the fan? Will this hood or fan work in the new restaurant? Are the labels for ETL, UL or NSF still affixed to the exhaust hoods? This critical information is required, so the business owner needs to be especially sure that the items they have purchased meet the code requirements?
Installation of Used Commercial Hoods Can Definitely Be More Costly Than Installing New
Used restaurant hoods will already have a hole cut in them from the previous owners exhaust and supply. Depending on the new restaurant's layout, these may have to be patched and welded, and new holes will then need to be cut. Fans may not work or have the incorrect voltage. Many inexperienced owners won't know this until after or during the installation, which will require them to then purchase more equipment.
Still buying used? Most of the time replacing items such as filters, grease cups, light globes, grease extractors and hinge kits is required, when these items are typically included in all new commercial hoods. In the long run, how much has the startup spent, and how is their headache factor?
Asking the following questions, before purchasing used commercial kitchen hoods is well worth the time:

Can my restaurant operate without a hood ventilation system?
What is the revenue that my hood ventilation system generates for my business?
What is my total financial loss if the fan goes down and I cannot cook?
Is it worth the risk, is it really a savings? Are anxious new owners on a budget trading a few dollars now, for bigger headaches and larger dollars spent later?
Peace-of-Mind: It's definitely worth taking the time when making this type of important technical decision. When in doubt new operators should ask questions of professionals like those at HoodMart.com to get the truth about what they are buying. It makes good business sense to check prices and compare first, to guard against any unnecessary expenditures and to be sure the owner is not spending more money on used restaurant equipment, when they could have had all the benefits of buying new equipment!
About HoodMart®
HoodMart.com offers commercial kitchen range hood systems in a variety of sizes from 4 feet to 30 feet. Restaurant and Food Service Safety are Guaranteed with HoodMart's Pre-Piped Fire Suppression Systems. Completely integrated for absolute safety against grease and other types of food preparation fire hazards, our wet chemical fire suppression systems have restaurant and food service owners covered. All HoodMart's Exhaust Hood Systems are ETL listed to the UL710 Standard, built to the NFPA 96 Standard and NSF Listed. For more information about HoodMart's products and services, visit us at http://www.hoodmart.com/.
Media contact:
Pat Ranch
Call 1-800-715-1014 Toll Free in Ohio
###