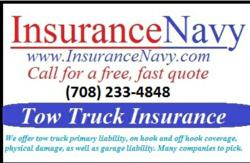 Joliet, Illinois (PRWEB) October 20, 2012
On August 24, 2012 Illinois Senate adopted Public Act 097-1078 to amend the Illinois Vehicle Code. Illinois Sen. Linda Holmes filed the proposal with Secretary on November 09, 2011. The new Act which went in effect immediately mandates that liability insurance contracts issued or renewed on and after January 1, 2013 will have to meet certain minimum liability limits requirements in Illinois.
The requirements provide that (i) Minimum insurance of $1 million combined single limit (CSL) per accident must be carried by motor vehicles which are used for a purpose that requires a school bus driver permit and is used in connection with the operation of private day care facilities, day camps, summer camps, or nursery; (ii) Minimum liability of $2 million CSL per accident on all other vehicles that are used for a purpose which requires a school bus driver; and (3) Minimum liability of $500,000 CSL per accident on any commuter van or passenger car used for a for-profit ridesharing arrangement.
Fadi Snenneh, a Spokesman for Insurance Navy Brokers, an Agency that provides personal and commercial insurance solutions in Illinois and Indiana stated that the new Act is a success for the Illinois residents. "Raising liability limits means that insurance carriers are going to use more scrutiny in insuring businesses that own and operate these vehicles. In order to maintain lower insurance rates, these companies will have to adopt higher safety standards and better practices of hiring vehicle operators," Snenneh said.
Experts believe that the Act will also lessen competition among insurer. Many local carriers provide coverage limits less than $1 million CSL each occurrence. This means that these carriers will have to drop this line of business, or resort to reinsurers to meet the new requirements.
ABOUT INSURANCE NAVY
Insurance Navy Brokers is a chain of insurance agency that provides personal and commercial liability insurance in the Chicago area. The agency has several locations in the area providing auto insurance quotes and commercial vehicle insurance quotes in Illinois.
CONTACT DETAILS
Name: Fadi Snenneh
Address: 18 South Larkin Avenue, Joliet, IL 60436
Phone: (815) 725-4700
Email: info(at)insurancenavy(dot)com