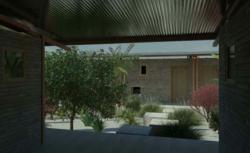 "Arcbazar's ultimate goal is to offer competitive solutions to everyday architectural design challenges all around the globe -- and enable clients to make use of the fair competition process."
Cambridge, MA (PRWEB) March 04, 2013
Arcbazar, a Cambridge based online company for architectural design, announces a collaborative crowdsourcing project with the Asian Children's Mission (ACM) to design a community center in Myanmar.
ACM is a non-profit organization that brings education, healthcare and infrastructure to orphanages in impoverished and destroyed villages in Myanmar and Thailand. The Mission planned to build a community center on a two-acre land in the village of Nyaung Ywa, in the Irrawaddy division of Myanmar. ACM collaborated with Arcbazar to crowdsource the conceptual design for this center. The building program consisted of a nursing facility, a faith garden and a sustainable model farm. Joana Jones, director at ACM, says "the biggest challenge I gave the designers was to use alternative building materials that are durable but inexpensive." 47 architectural designers from 13 countries responded to Jones's call and submitted their design concepts.
Crowdsourcing is becoming increasingly mainstream in many fields, such as in science and technology, law, and graphic design. Arcbazar is the first company crowdsourcing architectural design projects. Many clients find the path to the architect's office too circuitous or luxurious. For them, Arcbazar offers an easy and affordable way to acquire alternative solutions to their design challenges. "Our ultimate goal is to offer competitive design solutions to every spatial aspect of our built environment. And, allow people to make use of the fair competition process," says founder Imdat As.
The winning design for the community center came from Salvador Patino, an architectural designer from Tempe, AZ. "As my primary interest was on using inexpensive, durable and sustainable building materials, this project proposal went into significant depth on building materials, as well as having a solid design," Jones said, "I was delighted with the responses I got."
This project vividly illustrates the power of crowdsourcing in responding to social needs and empowering communities around the globe in an effective and affordable way.
About the Asian Children's Mission (ACM)
ACM is a non-profit organization that brings education, healthcare and infrastructure to orphanages in impoverished and destroyed villages in Myanmar and Thailand. For more information about the organization, please visit: http://www.asianchildrensmission.org/
About Arcbazar.com
Arcbazar.com is the first-of-its-kind online crowdsourcing platform for architectural design services. Arcbazar.com runs small-to-medium sclae architectural design competitions and offers an easy and fast web interface between clients and architectural designers. To learn more, visit http://www.arcbazar.com
Ana Batista
Media Relations
Arcbazar.com
c/o Dogpatch Labs
One Cambridge Center, 6Fl
Cambridge, MA 02142
Tel: 888-400-7861
E-mail: ana(at)arcbazar(dot)com