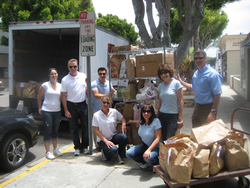 Every tent was full of volunteers; people were packing food, donating blood; and recycling electronic waste. The energy was amazing
San Diego, CA (PRWEB) August 4, 2010
Windermere Exclusive Properties celebrated Community Service Day 2010 with a heartfelt Fair to benefit a dozen local and international charities. The Fair surpassed expectations and is being touted as an outstanding success for Windermere and San Diego County.
"The goal of Community Service Day is to provide support for those in need," said Linda Schechner, Community Service Chair for Windermere San Diego. "This year our Fair generated record amounts of donations. Our biggest problem was having too many volunteers!"
The charities that participated were: The American Red Cross, San Diego Blood Bank Bone Marrow Donor Registration, Friends & Family Community Connection, Leez PJ's 4 Kids, Rady Children's Hospital, Child ID Services, Interfaith Services in Escondido, Community Resource Center in Encinitas, E-World electronic recycling, Shred-it, Helen Woodward Animal Center and the Zarina Rahman Foundation.
"You can't help but feel moved when you see your coworkers and friends rolling up their sleeves and doing their part. Every tent was full of volunteers; people were packing food, donating blood; and recycling electronic waste. The energy was amazing," said Steve Rodgers, President/Owner of Windermere Exclusive Properties.
In a partnership with Friends & Family Community Connection, Windermere set up an elaborate food packing assembly line to box up meals for earthquake victims in Haiti and local shelters. "We expected to pack 20,000 meals, but our 200 volunteers were so fast they packed an additional 3000 meals," said Schechner.
The American Red Cross Blood Bank set up two bloodmobiles, collecting enough blood to save the lives of 129 people and the San Diego Blood Bank registered 10 new Bone Marrow Donors. At a time when resource centers are fighting through their slowest season for donations, Windermere agents and friends collected nearly 400 bags of food. The Community Resource Center and Interfaith Shelter were thrilled to receive such an extreme contribution for summer.
While Fair guests enjoyed a live DJ and the company of animals from the Helen Woodward Animal Center, they shredded more than 80 boxes of old documents and dropped their old electronics off for safe recycling. Leez's PJ's 4 Kids collected almost 90 pairs of pajamas and several visitors were so moved by the organization they are making plans to hold their own PJ Parties. There were piles of art supplies, crayons and coloring books donated to the Rady Children's hospital and lines of parents brought their kids to get Child IDs and fingerprints. Everywhere you looked, the community was having fun and giving back.
"Community Service Day is a unique tradition that really captures the spirit of Windermere," said Mark Loscher, CEO. "We love San Diego and will continue to do our part to make it a fabulous place to call home. After all, our work is not about houses. It's about people."
# # #