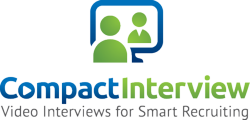 ...you meet a candidate and know within 2 minutes that the person is not suitable for your organisation.
London, UK (PRWEB UK) 27 March 2013
Experienced recruitment professional, Rupert Sellers has teamed up with technology specialists in Shoreditch, London's Tech City, to launch Compact Interview. The service accelerates the recruitment process by offering an easy-to-use video interviewing system, enabling employers and HR teams to see and hear candidates answering their screening questions online.
"We've all been in awkward interview situations, where you meet a candidate and know within two minutes that the person is not suitable for your organisation," commented Sellers. "As the interviewer, you wish you could stop the meeting immediately. But out of courtesy, you spend the next 30 minutes asking unnecessary questions. Compact Interview will help prevent those mismatched interviews."
The employer emails selected candidates, inviting them to take a video interview and record their answers to pre-set questions. The employer then reviews the video interviews online when it is convenient, by simply clicking from one candidate to the next. Compact Interview also provides a hands-on service to ensure the process runs smoothly for clients and their candidates.
"CVs are fine for outlining a candidate's experience but how we perceive someone on paper can be very different to the reality," commented Sellers. "With video interviews, clients only need to spend a few minutes watching and listening to a candidate before deciding whether or not to shortlist them."
In a study of 5,000 business owners in the UK, 85% of employers rated soft skills as the most important quality when hiring new staff. Video interviews can provide richer insight into a candidate's qualities, giving hiring managers extra confidence when selecting the best talent for face-to-face interviews. By posing the same questions to all candidates and allowing equal time to respond, Compact Interview also provides a fairer and more structured interview process.
Sellers came up with his video interviewing concept in 2009, having worked in the recruitment field for 10 years. Sharing clients' and candidates' frustration with the slow pace of the typical hiring process, he brought on board technical developers, Solid State Group to create a secure and user friendly video interviewing system that does away with the need for scheduled telephone screenings.
With his background in luxury hospitality and passion for customer service, Sellers is committed to providing the best user experience for candidates at all levels and across all industries, from senior executives to graduates and unskilled staff.
Compact Interview will launch in Shoreditch, London at 9am on Friday, 5th April 2013.
About Compact Interview
Rupert Sellers, CEO & Founder of Compact Interview is a graduate of Oxford Brookes University in Hotel Management. He spent 20 years working in luxury hospitality, including management roles with Ritz-Carlton and Four Seasons, before joining an established search firm in London and was board director for 8 years. In 2010, Sellers launched Barometa, a specialist recruitment company with an integrated and bespoke video interviewing system. This led to the development of Compact Interview which enables employers to screen candidates directly with customised video interviews. The privately held company is based in Shoreditch, London.
Contact Information
Rupert Sellers
Compact Interview
http://www.compactinterview.com
+44 20 3130 4935