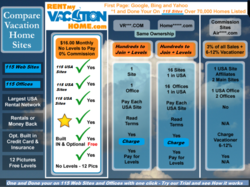 Compare Vacation Rental Websites to Rent My Vacation Home 115 Offices and Sites
New York, NY (PRWEB) March 29, 2013
In comparing the vacation rental website industry Rent My Vacation Home.com has over 115 websites and offices. The other vacation rental websites are under 20 sites in total.
In further comparison the checkout system of Rent My Vacation Home.com has no commission structure attached to it . There were also no charges built into the insurance check out system. Most of the other vacation home rental web sites had extra charges for these items.
Comparisons also showed that Vacation Homes are readily shown on the front page with no extra levels being charged to the vacation homeowners. A reduction in average cost to the vacationer was usually observed when comparing the same cost of the same house for rent.
The Rent My Vacation Home.com system did not have any charge for commission or reservation fees to the homeowner or the vacationer. This again made seeking a reservation usually less expensive to the vacationer.
Most Web Sites do not have a address verification system that protect vacationers from scam listings as Rent My Vacation home does have this system in place.Vacationers can always save the listing, pay by credit card and get their insurance so that the Vacation Home they booked is waiting for them. Rent My Vacation Home.com also features a scam reporting section to keep homeowners and vacationers up-to-date on various problems.
Most sites cost hundreds of dollars to join and then depending on location Homeowners have to pay to be seen on the front page of the site. Some websites charge as much as 15 percent to handle the reservation. Rent My Vacation home .com is $16.00 per month with no contract, or extra charges .The Home Owner will have houses shown on page 1 of Rent My Vacation Home.com by a fair rotation.
For more information about Rent My Vacation Home.com and the 115 sites please go to the Home page at http://www.Rentmyvacationhome.com where they are now having a 30 day Trial.