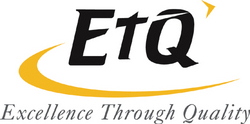 Farmingdale, NY (Vocus) February 4, 2010
EtQ, Inc., is pleased to announce the addition of new and enhanced modules in its latest release, Reliance 7.0. Below is just a sampling of what EtQ's latest release has to offer:
Product Data Management (PDM) -- EtQ's PDM module improves the management of product development through its components, subcomponents, and costs. PDM is part of managing the product lifecycle and helps track and control all data that is related to a particular product.
Hazard Analysis Critical Control Points (HACCP) -- EtQ's HACCP solution includes the ability to create and control Hazard Analyses, Prerequisite Programs (PRPs), and Critical Control Points (CCP). HACCP is fully integrated with EtQ's Risk Assessment tool and Training application.
Job Safety Analysis (JSA) -- EtQ's JSA module breaks down a job position into various steps in order to analyze each step for potential safety hazards, identify each step's associated hazards, and analyze the risk of the hazard occurring. It also determines preventive measures such as personal protective equipment (PPE) to be used, and counter measures that should be put in place.
Failure Mode and Effects Analysis (FMEA) -- Within any Quality Management System, the ability to identify and mitigate potential risk in product and process design is important to ensuring the highest level of quality. EtQ's FMEA module has been developed to better analyze product and process design, reduce the time taken to study effects, and mitigate the risk of potential failures.
Project Control Integration with MS Project -- The Project Control module has been enhanced to include the option of integrating with Microsoft Project. Using additional functionality added to the existing "Microsoft Office Integration" feature, users can now automatically generate a project within the Project Control module from a "Microsoft Project" template. This allows the system to bi-directionally synchronize all specified project tasks and activities between the Microsoft Project file and the EtQ Reliance Project file on an ongoing basis.
Incidents -- EtQ's Incidents module has been enhanced to improve the process of data entry by incorporating an intelligent, decision-based functionality that displays the appropriate forms based on Incident types selected.
Occupational Safety and Health Administration (OSHA) Reporting -- Added to the Incident Module is the ability to generate crucial reports required by OSHA. Three OSHA Injury/Illness reports have integrated into incident forms to manage the statistics of injuries that occur in the workplace -- OSHA 300, OSHA 300A, and OSHA 301.
"With Reliance 7.0, we continued to focus on the core strengths of the product -- flexibility, ease of use, scalability, reporting, and integration," stated Morgan Palmer, Chief Technology Officer at EtQ. "The voice of our customer plays a major role in the development of technology within new releases. Annually, EtQ incorporates over 1,000 customer change requests into our product to continue to meet the needs of our worldwide user base -- the latest modules in this release is a further testament to that."
About EtQ
EtQ is the leading Enterprise Quality and Compliance Management software for identifying, mitigating, and preventing high-risk events through integration, automation, and collaboration. EtQ uses best-in-class, integrated modules and enterprise application integration to manage and measure quality and compliance processes and execute organizational change. Key modules within the product include Document Control, Corrective and Preventive Action (CAPA), Audits, HACCP, Complaint Handling, Risk Management, Change Management, Employee Training, Project Management, Nonconforming Materials, Enterprise Reporting, and more than 20 additional compliance-oriented modules. With its world-class flexible workflow, collaborative platform, EtQ has developed a unique niche to support enterprises involved in various compliance management initiatives such as cGxP (FDA), ISO 13485, ISO 9001:2008, ISO/TS 16949, ISO 14001, ISO 22000, AS 9001, TL 9000, OHSAS 18001, RoHS, Sarbanes-Oxley, HACCP, SQF, BRC, IFS, and similar standards for compliance and regulatory management. EtQ has been providing compliance solutions to a variety of markets for over 15 years. For more information or to schedule a virtual demo, contact EtQ Inc., at 800-354-4476 or 516-293-0949, or e-mail us at info(at)etq(dot)com. Visit EtQ at http://www.etq.com .
EtQ is a trademark of EtQ Management Consultants, Inc. All other product names and company names are trademarks or registered trademarks of their respective owners.
###