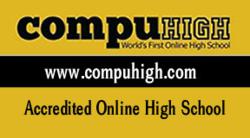 Students stay with each lesson, working one-on-one with the teacher, until they have mastered the lesson contents.
(PRWEB) March 13, 2013
CompuHigh online high school now offers an Advanced Diploma Program that allows students to earn college credits while working on their high school diploma. Students who earn enough credits through a combination of CompuHigh dual credits and outside college credits can qualify for advanced rank in the US Military.
CompuHigh offers students the opportunity to take up to five dual credit courses (15 credits) 'in house'. Qualified CompuHigh teachers who specialize in mastery online education teach these courses. College credits for these courses are granted by Seward County Community College in Kansas. Students can take additional credits either at a local community college or a community college associated with CompuHigh. CompuHigh will transfer in these additional credits to fulfill some requirements toward a high school diploma with CompuHigh.
Students who earn 24 semester credit hours qualify for E2 rank upon enlistment in the U.S. Army or Navy, and it is only 20 semester credit hours for the U.S. Air Force and 18 for the Marine Corp. E2 rank can earn a recruit basic pay of about 300 dollars more a month initially.
CompuHigh's self-paced curriculum is a good fit for high school students who want to enroll in courses at their local community college. Students can work on their CompuHigh lessons any time, day or night. There are no scheduled class times and no deadlines for assignments. This allows enough flexibility to take additional college classes during the day or to work or pursue other interests or responsibilities.
Moreover, CompuHigh's Mastery Learning model allows students to bring their grade point average up. Students stay with each lesson, working one-on-one with the teacher, until they have mastered the lesson content. This allows any hard working student the opportunity to earn high grades. It also helps students master the types of skills that are tested on the ASVAB.
"Students might get through a traditional high school algebra class, for example, without ever really learning algebra," explains Educational Director Jeannette Geib, "but when they have to stick with each lesson until they get it right, and when they get individualized help from their teachers, they come out of the class really knowing algebra. This sticks with them when they go to take the ASVAB test."
CompuHigh's 5 dual credit courses include College Algebra 1, College Algebra 2, College Biology, College American Government, and College Composition. CompuHigh students can take these courses to meet part of their requirements for a college prep diploma at CompuHigh. Students must pass a proctored final exam to earn college credit in any of these 5 courses.
CompuHigh is an accredited online high school established in 1994. CompuHigh offers both individual courses and flexible diploma programs. CompuHigh's private diploma program high school is called Whitmore School. For more information about CompuHigh, visit http://www.CompuHigh.com or call 1-866-859-0777 to speak with Admissions Specialists Melissa or Kassie.