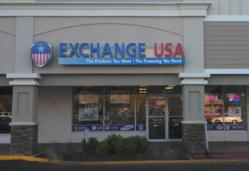 We are excited with this new association and look forward to better serving our customers.
Norfolk, VA (PRWEB) November 03, 2012
Exchange USA, a secure military loans provider, has incorporated Computer Command, a premier Computer Repair and Virus Removal Service Company, into their storefront located in Norfolk, VA. The combination of consumer products offered in the store and the on-site service capability provide serious enhancements in customer value. Though the service capability was initially intended just for in-house customers, the company is pleased to announce computer repair services will be available to all consumers in the area.
All Technicians at Computer Command are Comp TIA A+ certified and can handle both PC and Mac hardware and software issues. Ron Frary, Director of Technical Services states "We are excited with this new association and look forward to better serving our customers." The service list includes, but is not limited to:
Virus and Malware Removal
LCD Screen Repair/Replacement
Power Jack Repair
Operating System Restoration
Memory Upgrades
Hardware Installation, Repair, and Replacement
Data Transfer
Performance Enhancements
PC Tune-ups
Data Backup
Computer Command was founded in 2009 and had been located in the Wards Corner Area of Norfolk. They anticipate most existing customers will have no issue with the move just a short distance down Little Creek Road. Customers do need to note the name change- there is no signage relating to Computer Command- the service center is wholly located within the Exchange USA Facility. The East Beach Shopping Center site is on the corner of Shore Drive and E Little Creek Road. The Store is located in between Radio Shack and Family Dollar.
In addition to consumer electronics, Exchange USA carries Furniture, Appliances, Rim/Tires, Gas Scooters, Computers, Televisions and more. In addition, Exchange USA Military Travel Services provides military travel loans for active and retired US Military, their family, dependents and friends. There are numerous holiday specials available for product financing, service and travel. Check with the store for more details.
Company Information:
Exchange USA is based in the newly revamped East Beach Shopping Center at the corner of Shore Drive and East Little Creek Road. Offering consumer and military financing on lifestyle products and travel, Exchange USA was founded in 2009 and is has quickly become a local market leader. Located at 4039 E Little Creek Rd., the company can be reached at 757-695-3388 or through their website at http://www.myexchangestore.com. Computer Command can be reached at 757-389-7260 or through the web at http://www.pccommand.com.