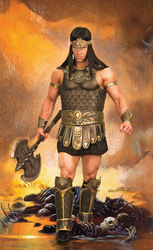 Conyers, GA (PRWEB) October 27, 2010
Atlanta Cutlery Corp. (ACC) & Museum Replicas Ltd. (MRL) announced today that they have begun shipping the Age of Conan line of Live Action Role Play collectibles. The agreement covers multiple characters from the hit video (MMPOG) game.
The company will develop a range of prop collectibles and specialty products including full-scale helmets, weapons, and other props all inspired by the characters, creatures and themes from this incredible gaming experience.
As the world of author Robert E. Howard's Conan has matured from its roots in the 1930's to a new audience with each new comic, DVD or movie release, so has its fans. The assortment of products being created by ACC/MRL will therefore be geared to appeal to the loyal fans of the classic pulps and the movies of today. Each prop will be meticulously researched with Paradox Entertainment and Funcom archival personnel for absolute realism and authenticity. Characters include Conan and races from Cimmeria, Vanaheim, Acheron and more. As comic book and movie audiences have become more sophisticated in their reading and viewing tastes, so have the collectors of these higher end collectibles and LARPers. People are beginning to realize that these pieces are not only purchased for their ever-increasing intrinsic value, but for their aesthetic beauty and playability/practical use when gaming.
Each piece produced by Museum Replicas will feature the best materials and have been thoroughly tested to hold up to the rigors of LARP combat. These include polyurethane helmets and armor, along with latex rubber swords, axes and maces.
The Age of Conan Collection can be viewed online at http://www.museumreplicas.com or on their sister site http://www.atlantacutlery.com and in person at the Museum Replicas showroom in Conyers, GA.
© 2009 Funcom, All rights Reserved, © 2009 Conan Properties International LLC. CONAN®, CONAN THE BARBARIAN® and related logos, characters, names, and distinctive likenesses thereof are trademarks of Conan Properties International LLC unless otherwise noted. All Rights Reserved. Funcom Authorized User. Eidos and the Eidos logo are trademarks of the Eidos Group of Companies. All rights reserved. http://www.marvel.com.
About Museum Replicas
Museum Replicas Ltd. along with their partner company, Windlass Steelcrafts are recognized as a worldwide leader in the design, manufacture and marketing of fine collectible products. With headquarters in Conyers, Georgia they sell their products in over 14 countries around the world. Licenses include Marvel Comics, The Terminator, Assassin's Creed I and II, Star Wars, The Tudors, Frank Miller's 300, Wheel of Time, The Phantom, World of Warcraft, Age of Conan, The Lord of the Rings and Harry Potter.
Contact:
Museum Replicas Ltd. 1-770-922-7500
Nisha Windlass, Media Relations x56
Robin Chaudhuri, Product Sales & Distribution x17
###