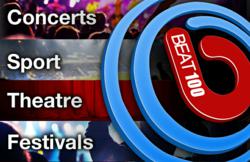 Last minute tickets deals for concerts, theatre, music festivals, sport and events and more worldwide, checkout the most popular events found anywhere online.
(PRWEB) September 28, 2012
BEAT100 are always looking for new and exciting things to offer users. Not only does BEAT100 offer users the chance to socialise, promote themselves and share posts with friends, but users can now also buy all your music concert, sport and theatre tickets in the same place! BEAT100 have hooked up with the ticket company Seatwave which allows users to use the Seatwave database from the BEAT100 "Tickets" page rather than having to go to another website.
Users can find tickets for a favourite music festivals and artists, such as Ed Sheeran, Muse, Lady Gaga, Taylor Swift, Justin Bieber, One Direction tickets and. Not only can people find amazing new up and coming artists and bands using beat100 search engine, but people can also find tickets for your favourite shows and musicals, including, Les Miserable's, Wicked, We Will Rock You, Ghost the Musical, Legally Blonde and Billy Elliot! BEAT100 are now introducing a new tool to find tickets to upcoming sports games from all over the world, including, football, basketball and hockey!
BEAT100 has chosen to be in association with Seatwave due to the safety precautions and customer satisfaction that is always guaranteed. Seatwave includes three golden rules that determine why it is the best place to purchase your tickets:
1) TicketIntegrity™- Seatwave guarantees that customers get the tickets they ordered by the day of the event. If not, the customer is guaranteed replacement tickets or every penny back.
2) TicketCover™- All tickets are covered for event cancellation.
3) TicketLeaders – Seatwave are Europe's leading ticket exchange with more fans visiting the marketplace to buy or sell tickets than any other ticket exchange.
These three simple promises are why BEAT100 have chosen Seatwave to be the ticket exchange company for our users. BEAT100 don't believe in disappointing there users, which is why enabling customers to purchase concert, sports and theatre tickets easily through BEAT100 is the best way to go. This reduces the effort of trying to finding tickets to gigs or for a night out on the west end as BEAT100 will always stay up to date with in demand concerts for our customers.
Buying concert tickets on BEAT100 is easy; all customers have to do is find the artist, show or sport they want to see, the place and date and click "buy". From there, customers are taken directly to the Seatwave website where they can pick a seats and price and the tickets! Allowing users to purchase tickets from BEAT100 ensures customers that the tickets they are buying are real and safe. This way, customers will never have to enter your details into a company website that they don't already trust! As shown in the above three points, customers are always guaranteed their wanted product or their money back, which means customers are never intimated by a company website or worried about getting their tickets. The ticket page is easy to check up on so customers will never miss the chance to see a favourite artist live and can keep up to date with who is on tour and what shows are on in the West End, London or Broadway, New York! The possibilities are endless with BEAT100.com