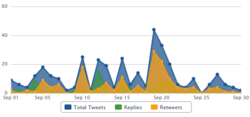 ...a meteoric jump in the online buzz regarding Demi Lovato was recorded as soon as she announced her tour
Carlsbad, California (PRWEB) October 27, 2011
Demi Lovato, who turned 19 in August, has already undergone the highs and lows in life that most people have to contend with by their mid-30s. Demi explained to Amy Kaufman of LATimes.com about how she would put-up a façade of nonchalance whilst living the highlife as the star of Disney's Sonny with a Chance. "I had learned how to control and manipulate everyone around me into believing that I was OK," Demi reminisced poignantly. However in October last year, a public display of aggression that involved punching a backup dancer whilst touring with the Jonas Brothers, broke through Lovato's idyllic persona and revealed the grim face of her closeted skeletons.
Traversing a more open road after her face fazing experience, unlike most of her Disney counterparts, and navigating through bulimia and bipolar disorder, Demi Lovato reemerged from rehab in January this year to take charge of putting out her third studio album Unbroken. The iTunes chart-topping record's sound, embellished by collaborations with Timbaland, Missy Elliot and Jason Derulo, depicts her transition from yesteryear's charming teen-queen to her current angsty "legal" self. Her promotional look has also shed her previous squeaky-tween trappings and donned more risqué garbs.
Though it's anyone's guess whether Demi Lovato's mercurial journey will overshadow her potential niche carving in the mainstream musical genres, the speculation regarding the pricing of her current musical excursion has certainly been borne out in sharp relief. Secondary ticket selling site Ticketmayor.com is expecting the prices and sales figures of tickets of Demi's upcoming shows to undergo a substantial boost. Anastasia Lyman, a representative of the site, explained that, "As soon as Demi Lovato released her album Unbroken on 20th September, the demand for Demi Lovato tickets of her upcoming concert appearances has sharply arisen." Anastasia also revealed that Twitter.com monitoring site TweetStats.com reported meteoric jump in the online buzz regarding Demi Lovato tour tickets.
About Demi Lovato
Demi Lovato is a US based singer, musician, songwriter and actress and has been a fixture in the tween/teen based entertainment industry for almost a decade. Getting an early start in the popular television show Barney and Friends, Demi has been most famously associated with her lead role in Disney's Sonny with a Chance and Camp Rock flicks alongside the Jonas Brothers. Her albums such as the chart-topping Here We Go Again have garnered high sales and growing legions of fans, with the release of her latest albums Unbroken setting the stage for future gigs which include Demi Lovato in New Orleans, Demi Lovato in Atlanta and Demi Lovato in Houston.
###