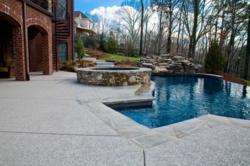 We live eat and breathe concrete, and our goal is to get our concrete customers in front of web searchers
Austin Texas (Vocus/PRWEB) March 14, 2011
While construction related businesses are reeling from the recession, many in the specialty concrete industry are thriving. Internet marketing company IDEAS media LLC is making a huge impact in the concrete world by focusing on niche specific marketing for Concrete Companies. Most marketing companies attempt to reach every type of business to offer their services, Ideas Media LLC has learned that focus is key.
Targeting niche markets like 'specialty concrete' allows for industry specific niche marketing campaigns, yielding, quick, turnkey online programs with high impact results.
Vice President of Operations, Rebecca Meyers stated, "It's all about getting the job, for our concrete clients. We know concrete; we understand contractors and suppliers so we can quickly tailor a marketing campaign specific for them. We don't deal with a shoe company one day and a concrete company the next. We live eat and breathe concrete, that's it, and our goal is to get our concrete customers in front of web searchers."
While most other search engine marketing companies out there rely solely on telemarketing and working the numbers to gain new clients it is their lack of expertise in the subject matter that keeps them from gaining ground within so may industries. When a company is ready to get started on a campaign the learning curve and amount of time and effort required to train the marketing company is often daunting and way too time consuming, also resulting in added costs.
It is not surprising that many local online marketing companies are beginning to emulate what IDEAS media LLC has been doing for over 7 years: focusing on niche specific markets.
With a combined experience of 30 years in the concrete industry and a database of keywords, along with an understanding of what people are actually searching online when it comes to commercial and residential concrete, http://www.concreteideas.com has become one of the top online authority websites for the concrete industry.
Mark Donaldson, president of IDEAS media LLC claims that "if any concrete business wants to compete locally, they can get a substantial boost in their online rankings by going after top key words that people are searching for in their local area. Our marketing campaigns allow them to do that."
In addition, by being affiliated with an authority website such as http://www.concreteideas.com results in more inbound links, more leads and ultimately more traffic to their company. "It gives their business and website the boost it needs to be included in the search results above their competitors," says Donaldson. Businesses that still believe in, and rely solely on having a company website may find themselves gradually disappearing from top search results, in place of those who continue to create content, and grow their online affiliates and inbound links.
# # #