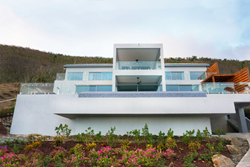 We fell in love with this island as soon as we sailed into White Bay. An island so full of beauty and even more beautiful people. When we built Glass House, we did it with the island in mind. Ensuring that panoramic views of the island and bay could be seen from every room in the home.
JOST VAN DYKE, British Virgin Islands (PRWEB) October 11, 2018
Condé Nast Johansens, the prestigious, luxury travel magazine, has selected the newly built Glass House villa in the British Virgin Islands to be featured in their next print issue. Immediately after being selected, the Glass House has been nominated for the Best Newcomer in their 2019 awards. Heading up against large hotel chains such as the Gran Hotel Manzana Kempinski in Cuba and Sublime Samana Hotel in the Dominican Republic. The Glass House is the only home nominated for the Best Newcomer awards and offers privacy and seclusion compared to the large resort hotels.
Completed in April 2018, the aptly named Glass House offers panoramic views of White Bay and is only steps away from the pristine white sand. Located on the smallest of the British Virgin Islands, Jost Van Dyke is a quiet, hidden escape that doesn't have that over-crowded and touristy feel. Jeremy and Cindy, Glass House owners, fell in love with the little island five years ago and instantly purchased land when a rare parcel became available.
Guests have their choice between three master bedrooms; each has its own en-suite bathroom. Relax in a bathtub that fills from the ceiling, all while watching the sunset over the Caribbean with St. John in the distance. When you bring along the kids, they'll have custom built-in bunk beds that sleep an additional six. Luxury amenities include a fully equipped kitchen with Viking commercial appliances and an upstairs bourbon bar complete with an authentic "used" Pappy Van Winkle Barrel signed by Julian Van Winkle himself. Step outside the Glass House and enjoy over 2,000 ft2 of outdoor living. Stroll down the unspoiled White Bay Beach then head over to Soggy Dollar Bar for a "Pain Killer," one of the places known for making Jost Van Dyke an infamous party scene.
Whether swimming in the infinity pool, relaxing in the private beach cabana or looking for something adventurous, guests can be as busy or laid back at the Glass House as they'd like. Paddle/boogie boarding, sailing, snorkeling, and fishing are a few of the most popular amenities Glass House has to offer.
As the only home nominated for this prestigious award, help Glass House go up against the "big guys" by casting a vote at glasshousebvi.com. Those that vote will be entered in to win 50% off a weeks stay at Glass House.
Interested parties looking to visit this little slice of paradise should book soon because spots are filling up quickly. Contact info@glasshousebvi.com or visit glasshousebvi.com for more information.