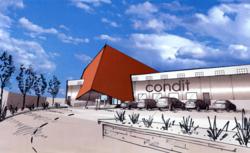 Denver, Colorado (PRWEB) March 01, 2013
Condit announced the completed expansion of the corporate office into a newly designed space in downtown Denver.
Condit also invested in the growth of its exhibit storage and warehousing facility. The new and improved space meets both the physical requirements to maintain future growth and also adds synergies to Condit's business operations, creative design, and warehousing teams.
The expansion and transition came at an opportune time as Condit's president, Mike McGowan, noted that the previous facilities were "bursting at the seams" due to the substantial growth Condit has experienced the past few years building custom trade show exhibits and innovative temporary structures.
This is the third such move in Condit's near 70-year history to keep up with expansion and business growth. The company began serving clients in the Denver area in 1945 with a small storefront and three artists. While Condit expanded to over a dozen talented individuals by the mid 1960's, it was clear a new facility was needed to accommodate the continued growth of the business. In 1976, Condit Exhibits moved to 500 W. Tennessee Avenue, expanding its footprint in downtown Denver.
Today, Condit's facility utilizes over 133,000 sq/ft of space, and is still growing rapidly as the top Denver trade show exhibit company. But just one year ago, it became clear to both Condit's President, as well as its VP of Operations, that bringing everything together under a "new roof, and a big roof at that" was required to continue Condit's expansion. After an exhaustive search of the greater Denver area, the company found a building that not only suited their physical requirements but least impacted key Condit employees and trade show exhibit experts.
The new facility is located at the Colorado Trade Center on 5151 Bannock Street. Condit retrofitted the space to maintain the same culture and function that became synonymous with their previous office on Tennessee Avenue.
The move was not easy and required a two-step process detailed below:

Stage 1: April 2012 – The warehouse and trade show exhibit storage operations were transitioned into the new facility. Condit's planning team staged the move and ensured ample time and support to make the transition as smooth as possible for Condit's clients and operations.
Stage 2: Q4-2012 & Q1-2013 – The main offices and manufacturing operations were moved into the newly retrofitted/remodeled office space. The remodel was coordinated with Condit's creative design team to ensure the infrastructure and space truly captured the look and feel Condit has become known for.
Now that the move is complete, the Condit team looks forward to better serving their clients at the new office while providing expanded exhibit storage options.
ABOUT CONDIT EXHIBITS:
Condit Exhibits leverages its international footprint and the insights and experiences developed over its 60-year history to assist global clients with all of their exhibition challenges. By staying on the bleeding edge of the trade show and exhibit industry, Condit Exhibits can design and build multi-dimensional exhibitions, environments, studios, and digital spaces. Headquartered in Denver, Colorado and with offices around the USA and Europe, Condit Exhibit's goal is to help create lasting experiences for you and your customers. We specialize in the design, fabrication, management, and installation of trade show exhibits, double deck and temporary structure solutions for events, museum exhibits, visitor centers, real estate sales centers, television studio sets, corporate lobbies, kiosks, and three dimensional marketing environments of any kind. For more information, visit the Condit Exhibits website or call 1.800.541.6308