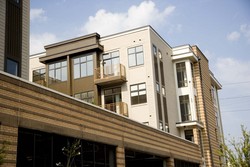 The developers wished to send a strong message to the marketplace that they were serious about selling out at the highly successful West End Village. Auctions connect buyers who are serious about buying with sellers who truly intend to sell. The auction process places all parties on an even playing field
Winston Salem, NC (PRWEB) February 11, 2009
Winston-Salem, NC (PRWEB) February 11, 2009 -- What promises to be one of the largest real estate auctions in the Triad this year will take place March 28, 2009 in Winston-Salem, NC. West End Ventures, LLC announces the final sale of the remaining 17 residential condominiums and 1360 Sq. Ft. of commercial space at their West End Village Development. The property is ideally located at the western edge of downtown Winston-Salem at the corner of 4th and Broad St. just three blocks north of I-40BR (Hwy 158) Exit 5B and the new Winston-Salem Ballpark, home to the Winston-Salem Dash; the city's single-A professional baseball team. As many as 8 parcels will be offered absolute, without reserve, and regardless of price. Suggested opening bids will begin at $65,500 for these new, never before occupied and fully completed one and three story condominiums previously listed between $218,500 and $266,100. The auction will be conducted by Chartwell Auctions, Gordon Greene Broker and Auctioneer.
Jason Dolph, Manager of the Chartwell Auctions Charlotte office, stated, "For anyone with aspirations to own in downtown Winston-Salem, this is the opportunity you have been waiting for. Here is your chance to take advantage of historically low interest rates, and buy at your price." Up to 90% financing (APR 5.25%) will be available to qualified owner-occupant purchasers through locally operated Southern Community Bank and Trust and BB&T. Rather than sell these remaining 18 condominiums slowly over a period of months, West End Ventures, LLC has decided on this one-time-only sale, passing substantial savings to the successful bidder at auction. Dolph adds, "The developers wished to send a strong message to the marketplace that they were serious about selling out at the highly successful West End Village. Auctions connect buyers who are serious about buying with sellers who truly intend to sell. The auction process places all parties on an even playing field".
Completed in 2007 and designed by nationally renowned architect David Furman, the already 77% sold out 69 residential unit West End Village Development has had substantial appeal to residents aspiring for an affordable yet luxurious downtown home environment. All residential units feature large windows and walk-in closets, spacious floor plans, hardwood flooring, maple cabinets and state of the art kitchen appliances. Upgraded units are equipped with granite countertops and stainless steel appliances are available. This cutting edge urban development consists of two separate sections, including:
4th and Broad: This four-story, 49-unit contemporary building features both one-story flat-style and three-story townhome-style condominiums. Only eight 2 bedroom and 2 bathroom residential units remain. Buyers will have their choice from four different floor plans ranging from 1041 to 1191 square feet. The building features first floor garage and exterior parking, elevator service, private balconies, and a gorgeous, well maintained common area courtyard. Café Prada is situated at street level of the building, where you will frequently find residents enjoying their morning coffee or homemade gelato and a glass of wine for an evening dessert. 1360 square feet of neighboring street-side commercial space, zoned PB (Pedestrian Business) and accommodating to an array of potential retail and office uses will also be available at the auction.
The Towns: Only nine three-story townhome style condominiums remain in this three building section of West End Village. Buyers can choose from two different floor plans and units with quality city views. All units feature individually fenced outdoor areas for residents that enjoy their own section of private ground. All condominiums available in The Towns are 2 bedroom/ 2 bath and range from 1324 to 1394 square feet.
The auction will be held at the Embassy Suites Hotel in downtown Winston-Salem, located at 460 N. Cherry Street. The auction will begin at 12:00 P.M. on Saturday, March 28, 2009. For a free color brochure on the March 28, 2009 Real Estate Auction at West End Village with terms of sale for all properties you can call Jason Dolph with Chartwell Auctions at 704-831-8983.
###