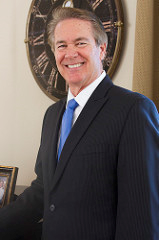 "A key provision of GDPR is the right to be forgotten (RTBF), which empowers any European citizen to have his or her name and identifying data permanently removed from the archives of any firm holding that data in its possession."
GLENDALE, Calif. (PRWEB) September 05, 2018
On May 25th of this year, the European Union formally adopted an updated and consolidated set of rules for personal data privacy called the General Data Protection Regulation (GDPR). The regulation applies not only to European companies, but to any firm doing business, in person or online, with a citizen of any of the 28 nations that make up the EU.(1) Condusiv Technologies CEO James D'Arezzo says, "Penalties for noncompliance with GDPR are severe: as much as 4% of an offending company's global turnover, up to a total fine of €20 million.(2)" D'Arezzo, whose company is a world leader in I/O reduction and SQL database performance, adds, "A key provision of GDPR is the right to be forgotten (RTBF), which empowers any European citizen to have his or her name and identifying data permanently removed from the archives of any firm holding that data in its possession."
A component of the right to be forgotten is called "right to erasure," which requires that the data be permanently deleted, i.e. irrecoverable. Many affected records consist not of fields or records in a database, but of discrete files in formats such as Excel or Word. What is needed in such a case, D'Arezzo notes, is a tool that can recover from incorrect deletions and also, in the case of confirmed valid "right to erasure" requests, permanently delete the record so that it cannot be retrieved. For Windows-based systems, this dual ability is offered by Condusiv's industry leading Undelete® product line, which ensures that—up to a point—every deleted file or version of an Office file on a Windows PC or server can easily be restored, even if it was deleted before Undelete was installed.
In the case of a data security issue such as a confirmed "right to erasure" request, however, Undelete's SecureDelete® feature will overwrite the file to help ensure it is unrecoverable, using specific bit patterns specified for this purpose by the US National Security Agency. A second feature, "Wipe Free Space", will overwrite any free space on a selected volume, using the same specific bit patterns as SecureDelete to clear out any previously written data in that free space.
"With these two features," says D'Arezzo, "when you select the option to delete a file with SecureDelete, you know it is virtually impossible to read/recover any of the data from that volume. Although you may have bought Undelete for its file recovery abilities, it provides you with other features to keep your data environment safe, secure, and compliant with current privacy requirements."
About Undelete® 10 Server
Undelete® 10 Server is the recycle bin for file servers, enabling continuous data protection and eliminating time consuming restores from backup due to erroneous or fraudulent deletes. Undelete ensures every deleted file or version of an Office file on a Windows PC or server can easily be restored—either by IT or by the users they support. Data protection typically means backups and snapshots, which do not capture every version of a file and require too much time for restore—Undelete enables quick recovery of deleted or overwritten network and local files. In just a few clicks, content that took hours to create is back in a moment, and instant restore of Outlook PST and individual files eliminates tedious recovery from point-in-time copies.
About Condusiv® Technologies
Condusiv Technologies is the world leader in software-only storage performance solutions for virtual and physical server environments, enabling systems to process more data in less time for faster application performance. Condusiv guarantees to solve the toughest application performance challenges with faster-than-new performance via V-locity® for virtual servers and Diskeeper® or SSDkeeper® for physical servers and PCs. With over 100 million licenses sold, Condusiv solutions are used by 90% of Fortune 1000 companies and almost three-quarters of Forbes Global 100 companies to increase business productivity and reduce data center costs while extending the life of existing hardware. Condusiv CEO Jim D'Arezzo has had a long and distinguished career in the high-tech arena.
Condusiv was founded in 1981 by Craig Jensen as Executive Software. Over 37 years, he has taken the thought leadership in file system management and caching and transformed it into enterprise software. For more information, visit http://www.condusiv.com.
1. Palmer, Danny, "What is GDPR? Everything you need to know about the new general data protection regulations," zdnet.com, May 23, 2018.
2. "Fines and Penalties." GDPR EUorg, http://www.gdpreu.org/compliance/fines-and-penalties/.