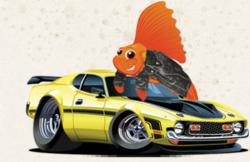 I predict a big jump in consumer attention to credit scores if this goes through.
Boston, MA (PRWEB) March 13, 2013
RoadFish.com men's lifestyle and finance magazine today issued their support of Memphis, TN Congressman Steve Cohen's proposition to have credit scores added to the no cost credit reports which credit bureaus are legally required to supply consumers with once per year. RoadFish.com agrees with the Congressman that it is important to know one's credit score in order to determine interest rates and potential for loan approval, and offers their prediction were the legislature to pass.
According to the Memphis Business Journal, Rep. Steve Cohen introduced legislation last week that would have credit scores added to consumers' free yearly credit reports, essentially providing credit scores free for consumers. Congressman Cohen was quoted as saying, "A good credit score means better interest rates on mortgages, bank loans and credit cards, smaller deposits for rent or utilities and even lower insurance premiums."
RoadFish.com is beyond supportive of Rep. Cohen's proposition, expressing excitement over a law that would allow consumers to be checking not only their credit reports each year, but also their credit scores—which alone can make a huge impact on the cost of a loan, interest rates, and even eligibility for things like employment and rent. RoadFish.com's Senior staff writer is quoted as saying, "I think it's a wonderful, wonderful idea. Up until now, consumers have only been able to see their credit reports which, don't get me wrong, is very helpful. It allows consumers to sit down and analyze the data on their report to ensure its accuracy. But people have in the past either had to pay for their credit score, or wait until they've been rejected for a loan or some other line or credit to get to glimpse at where they stand presently. It's my hope that this legislature passes and that consumers take advantage of a brand new opportunity."
The above-mentioned Memphis Business Journal reported that Rep. Cohen introduced the bill alongside Vermont Senator Bernie Sanders. The amendment would make a splash because presently, the only times a consumer is allowed a no charge copy of their credit score are when they have already been turned down for a line or credit or when they have received a loan with a sky-high interest rate.
RoadFish.com sees a bright future for American consumers' credit scores if this legislature passes. RoadFish.com's Senior staff writer is quoted as saying, "I predict a big jump in consumer attention to credit scores if this goes through. Folks will have easy access to their scores without having to shell out cash or, worse, finding out after it's too late that their score was in bad shape. This style of supplying credit scores to consumers allows them to be far more proactive than the current method, which is to show a person their credit score only after they've been denied credit."
About RoadFish.com:
RoadFish.com magazine is a publication focused on finance and lifestyle topics of interest to men in their 30's and 40's. RoadFish.com shells out advice on personal finance, men's fashion, and unique travel destinations. By way of finance, RoadFish.com offers tips and recommendations on everything from budgeting to beefing up a credit score, and reports on economic current events. RoadFish.com is owned and operated by Purpose, Inc.