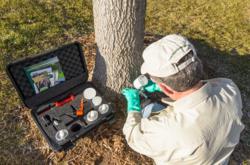 The Portle Kit is used for direct-inject treatments of conifers, pines, firs, spruces, evergreens, Scots pine trees (Scotch pine), hemlocks, palms and some hardwoods
OMAHA, Neb. (PRWEB) March 19, 2013
ArborSystems announced today that the Portle Kit will now be available with their Wedgle Direct-Inject Tree Treatment System carry case.
"The Portle Kit is used for direct-inject treatments of conifers, pines, firs, spruces, evergreens, Scots pine trees (Scotch pine), hemlocks, palms and some hardwoods," said Chip Doolittle, president of ArborSystems. "Our rugged, high-impact plastic carry case is included with new purchases of the Wedgle Direct-Inject Tree Treatment System and this addition to our product line allows the arborist or tree care professional that already owns the Wedgle to have a carry case too."
The Portle Kit consists of 12 Portles Tips, one Tip Setter, container for the Portle Tips and instruction guide. Users will be able to purchase the Kit with the current heavy duty backpack or the carry case. The carry case holds the Portle Kit, up to four 120 ml chemical packs and all the tools for the Wedgle Direct-Inject Tree Treatment System.
ArborSystems specially-designed Portle Tips and Tip Setter places the chemical deep into the active areas of conifers and palms where it can be easily absorbed. Chemicals are delivered fast and effectively at a known dose rate with virtually no environmental exposure associated with foliage spray, soil injection or drenching,
The Wedgle is a no-drill tree treatment system -- an easy, fast and tree-friendly way to treat almost any tree in five minutes or less. It is the only tree trunk injection application method that does not require a drilled hole. ArborSystems no-drill method is similar to getting a small scratch or vaccine that heals quickly versus drilling which is comparable to a cut that requires stitches and can be prone to infections. This approach protects trees from further stress and allows trees to put their full energy into recovery.
ArborSystems chemicals are used with their Direct-Inject Tree Injection System as an injection into the flare or base of the tree to ensure even distribution through the tree's vascular system for treatment of insects, pests and diseases.
ArborSystems' Shepherd fungicide is used to treat Anthracnose, Diplodia Tip Blight, Dutch Elm disease, Crabapple disease, Oak Wilt disease and other conifer and leaf diseases. Whippet Fungicide controls phytophthora spp. and Pythium diseases, Sudden Oak Death and Beech Decline. Their insecticide products include Greyhound that controls beetles, caterpillars, mites and nematodes (prevents Pine Wilt disease) and Pointer that treats Emerald Ash Borer, Hemlock Wooly Adelgids, Whiteflies, aphids and beetles. Their plant growth regulator products consist of Mastiff which reduces tree growth up to 70% over three years including stem elongation and wood formation and Pinscher used on ornamental trees to reduce flowering and fruit/seeds production decreasing cleanup and turf maintenance problems without comprising tree health. Their MicroNutrients product line improves tree health, promotes leaf growth and relieves symptoms of iron cholorosis, manganese deficiency and drought and transplant stress.
"Tree, turf and ornamental specialists will increase their efficiency in the field using the carry case by having everything in one place for tree treatment," said Doolittle.
ArborSystems provides a variety of tree injection systems and insecticides, fungicides, micronutrients and tree growth regulators designed to meet a broad range of tree care needs. They are known for their tree-friendly Pointer Insecticide that has been credited with saving thousands of Ash trees from Emerald Ash Borer (EAB) since 2002 as documented by Michigan State University. All of the Wedgle's hardware components are made in the United States. For more information, visit http://www.ArborSystems.com.