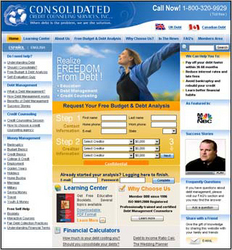 The best thing that people can do is to educate themselves on foreclosures. They must understand their rights as homeowners and not rely on a stranger's advice
Fort Lauderdale, FL (PRWEB) June 12, 2008
When someone is facing foreclosure they shouldn't trust people who tell them that they can get quick cash for their home or fast refinancing without any hassle.
Scam artist are coming out of the wood work offering a smile and a solution; a guarantee that the misery will soon be over for those going through foreclosure. "Everyone has seen the signs: "We buy Homes" and similar declarations. These people are known as foreclosure "rescuers" and they are not there to rescue anyone, but rather to help them drown," says Howard Dvorkin, founder of Consolidated Credit Counseling Services and author of Credit Hell: How to Dig out of Debt.
Types of Scams
Phantom help scam: The so-called "rescuer" will charge people exorbitant fees for making simple phone calls and for filling out forms and other paperwork that they homeowner could do on their own. "They make it seem much too difficult for people to do on their own and they want people to rely on them, to trust them. They give people a false sense of security, but nothing gets resolved and they end-up lose their money," Dvorkin stated.
The bailout scam: The "rescuer" convinces a person to sign over the title to their house with the promise that he or she will be able to stay in the house as a renter, with the option of buying back the house. The problem is that the terms of the buy-back are much too difficult for almost anyone to financially manage. In the end the person eventually loses everything and the scam artist walks away with the majority of the revenue.
The bait-and-switch scam: In this scam a person is led to believe that they are signing papers that will bring their mortgage current, but they are actually surrendering the ownership of the home. Before they know it they get evicted and the scam is complete.
One of the reasons people fall prey to foreclosure scam artists is because they feel shameful about their situation and want to remedy it at all costs. This leads to making rash decisions and poor judgments. The following are some tips from Howard Dvorkin to avoid getting scammed:
-- When a person gets entangled with someone who claims that they are helping them he or she shouldn't sign anything. Keep a clear mind. People need to look over the documents and get as much information as possible. Get a lawyer or a friend to help and be certain to talk to your mortgage representative.
-- Don't sign forms that say a person can rent or lease their own home and have the option of buying it back. Consult a lawyer or friend because these deals are usually dirty.
-- If someone is in foreclosure trouble they should contact their lender. Don't ignore warning letters. It is better to be up front with a lender as they may be able to offer assistance.
-- Never make mortgage payments to anyone but your lender and don't ever sign-off on a deal that switches your mortgage lender without going through the normal refinancing or modification procedures.
-- If someone presents a person with documents or a contract with blank lines they shouldn't sign it. Those lines can be manipulated at a later time when that person is not present.
"The best thing that people can do is to educate themselves on foreclosures. They must understand their rights as homeowners and not rely on a stranger's advice," advises Dvorkin. Counselors advise people to immediately speak with their lenders and let them know what their situation is because most have programs in place to help their mortgage customers.
For more information on personal finance issues please visit http://www.consolidatedcredit.org/.
ABOUT CONSOLIDATED CREDIT COUNSELING SERVICES. INC. - Consolidated Credit Counseling Service's mission is to help people end financial crisis and solve money problems through education and professional counseling. Consolidated Credit is an industry leader that provides credit counseling and debt management services throughout the United States. Consolidated Credit is a non-profit agency that has helped thousands of individuals and families deal with life-altering credit, debt, and financial issues.
###