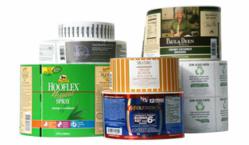 Longwood, FL (PRWEB) December 13, 2012
Consolidated Label Company, a leading manufacturer of custom labels in the United States, has added new label stocks that are both recyclable and environmentally friendly. In an effort to move towards a more "green" company operation, Consolidated Label announced earlier this year the addition of two eco-friendly label stock to its vast label material collection. Among the label stock added to the collection include the PCW1810 MACcopy and the Fasson 54# Semi-Gloss PCW.
"With more businesses implementing green initiatives to their operations, we felt the need to meet the demands of these businesses on those initiatives," says Joel Carmany, president of Consolidated Label. Carmany adds, "By adding these label stocks to our collection, we can give our customers more options when it comes to picking label materials for their products."
The PCW1810 MACcopy is a standard weight, flexible stock that utilizes an aesthetically pleasing 100% Post Consumer Waste uncoated facestock. This stock is typically use for asset and inventory tags, shipping and address labels, and retail products. With the facestock being 100% Post Consumer Waste, it is highly recommended to do an image quality testing prior to printing out custom labels.
The Fasson 54# Semi-Gloss PCW is a supercalendered, lightweight, coated facestock that offers a balance of economy and performance. This stock contains 30% Post Consumer Waste. This material also has an improved print surface for rich graphics on custom printed labels. This product is certified by the Forest Stewardship Council (FSC).
To learn more about our eco-friendly label materials, visit the Recyclable Labels section of our website at http://www.consolidatedlabel.com/capabilities/recyclable-labels.
About Consolidated Label:
Founded in 1981, Consolidated Label is one of the country's leading suppliers of custom labels and flexible packaging. The company produces custom labels and packaging for thousands of customers across a wide variety of industries including food, beverage, household products, medical, pharmaceutical, and promotional products.
For more information, visit http://www.consolidatedlabel.com