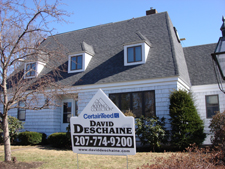 South Portland, ME (PRWEB) March 12, 2013
With hundreds or even thousands of local Maine homeowners browsing social media sites like Facebook twitter, LinkedIn, and YouTube, it's become easier to speak with numerous local Maine homeowners on a daily basis. These social media platforms provide David Deschaine the opportunity to tap into markets never available before this.
The immediate contact that social media allows David Deschaine to reach more people at once with updates and pertinent information. Though located in South Portland, they have completed projects across a large portion of southern Maine and are looking to expand on that. The use of social media platforms will allow for shared information among customers which can broaden the potential customer base.
Currently, David Deschaine has a Facebook page, a Google plus page, a LinkedIn page, a YouTube page, and a blog. The increased visibility that these sites will give David Deschaine will drive customers to their main website as well, which will ultimately give potential customers the information they need to choose Maine roofing, siding, window, and gutter projects.
The content on each of the social media sites for David Deschaine is abundant. Customers who visit the Facebook, and Google plus pages can browse photos of jobs, contact information, and videos. The YouTube page offers testimonials, advice and factual information about roofing, and job-site videos. Dedicated to providing the best service and quality workmanship, David Deschaine looks forward to reaching new customers.
<br>About the company:<br>
David Deschaine Roofing and Vinyl Siding Company has been offering professional and trusted home improvement services for over 25 years. With thousands of satisfied customers throughout Southern Maine, David Deschaine has the most trusted and recognizable name in the industry. Servicing the Greater Portland, Maine areas, his company offers 5 Star Coverage to customers, and with 25 years experience there is the added benefit of a Workmanship warranty. David Deschaine offers free estimates for roofing, siding, windows, and gutter projects. For more information visit their website at http://www.daviddeschaine.com.