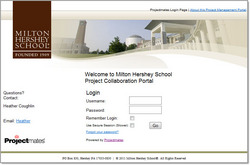 Throughout the Projectmates training, Milton Hershey School expressed a genuine excitement and real need for Projectmates.
Dallas, TX (PRWEB) February 15, 2011
Systemates today announced Milton Hershey School as the newest client of its online construction project management software, Projectmates. With a 2,640 acres campus to upkeep and numerous capital projects going on at any given time, the school's Planning and Design Department chose Projectmates for its cost effectiveness, functionality, and dedicated server hosting option.
Founded in 1909 by chocolate magnate Milton Hershey and his wife, Catherine, Milton Hershey School is unique in that it houses and educates 1,800 students who are in social and financial need. The vast 2,640 acres campus includes student housing, recreation areas, a library, a student center, and school buildings for students in grades pre-K through 12.
Milton Hershey School selected Projectmates because of the functionality and a high return on investment it provides. According to Melanie Boehmer, Director of Preconstruction, Projectmates will help the school "be more organized and manage projects more efficiently. We will communicate easier and be held more accountable." As paperwork decreases and communication becomes clearer, this means a more effective use of personnel resources, saving both time and money. The school will use Projectmates for budget control and contract management, procurement, scheduling, document sharing, construction management, and program-wide reporting.
Since Milton Hershey School signed with Systemates in early January, training and implementation of Projectmates are complete. The Projectmates team is providing a heightened level of support during initial project rollout to ensure the implementation's success.
"Throughout the Projectmates training, Milton Hershey School expressed a genuine excitement and real need for Projectmates," said Kaely Culbertson, Projectmates Support and Implementation Specialist. "Nothing is more thrilling to me than to see a client take Projectmates and run with it." The school already has nearly a dozen projects in Projectmates.
Unlike other construction project management software, Projectmates can be purchased in three flexible formats to meet different client needs and resources. Because Milton Hershey School has an IT infrastructure in place, they chose to host their own Projectmates server onsite. As part of the implementation process, Systemates created a custom portal page with a unique web address for the school where team members go to access Projectmates.
Clients can also choose the ASP format or the Total Control package. With the Total Control option, Systemates hosts and maintains a dedicated Projectmates server at its secure datacenter; clients also get a custom portal page and web address. No matter what hosting option a client chooses, they always get the same functionality and online accessibility. With Projectmates, there is no need to install any software on a user's machine because users access the system through a simple web browser.
About Systemates
Founded in 1995 by leading architects and software engineers, Systemates developed Projectmates to equip owners and owners' representatives with a secure, sophisticated Web-based construction management software solution. Projectmates' collaborative platform dramatically improves project execution, cuts costs and delays, increases accountability, and reduces risks. With its cutting edge technology, Projectmates creates one seamless platform for managing the complete lifecycle of a building, from planning, bidding, and building to maintaining the facilities. Over 25,000 users from organizations such as Retailers, Real Estate developers, Educational and Government agencies rely on Projectmates to manage billions of dollars in capital construction programs. Systemates is privately held and headquartered in Dallas, Texas. To learn more about Projectmates by Systemates visit projectmates.com.
###