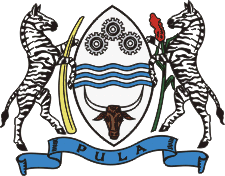 "Get off the block! When the U.S. economy crashed, other places like Botswana were still thriving. We have to think about doing more business on a worldwide platform, versus only focusing on our neighborhood block. Think Botswana!"
WASHINGTON, DC (PRWEB) September 08, 2012
Honorary Consulate of the Republic of Botswana Robert Shumake hosted esteemed Batswana government officials including, Dorcas Makgato-Malesu, Minister of Trade and Industry and Her Excellency Dr. Tebelelo Mazile Seretse, Ambassador of the Republic of Botswana to the United States; and tens of trade delegates from Botswana, Africa in Atlanta, GA, for the "Doing Business in Botswana: Information and Access" conference at the Loews Hotel. The prominent occasion designed to strategically leverage direct interaction with representatives at the highest levels of government and private companies were co-hosted by prominent taste makers, entrepreneurs, and Event Chair Adrienne Lance Lucas; Chairman, Botswana American Chamber of Commerce.
Batswana business delegates representing nearly a dozen industry sectors including Health, Real Estate, Education, Banking and Finance, Diamond Mining, Transport, Non-Bank Financial Services, Innovation, and Tourism were in attendance at the conference. Representatives at the highest levels of government and private companies including the chief executive officers and managing directors of several private organizations visited the United States to increase awareness of the prosperous democratic country and build alliances with local businesses.
Georgia Governor Nathan Deal sent a letter of support and a proclamation declaring July 20th "Botswana Day" in the city of Atlanta sponsored by Atlanta Council Member CT Martin and presented by Atlanta City Council president, Ceasar Mitchell, along with Councilman Kwanza Hall.
Remarks were provided by Fulton County Chair, John Eaves, who hosted His Worship Ephraim S. Maiketso, Mayor of Francistown. A few of the international participants included Botswana Development Corporation Limited (BDC), Botswana Investment and Trade Centre (BITC), and BOCCIM. Sponsored by Signet Jewelers and AGCO, and in partnership with Invest Atlanta, GlobalAtlanta, DeKalb Chamber of Commerce, Fulton County Economic Development and Metro Atlanta Chamber, Botswana Day activities cultivated many new and empowering relationships between future business, government and philanthropic partnerships. Read more: http://www.globalatlanta.com/article/25675/
The missions of the historical event were met with a tremendous amount of success. Of the business endeavors presented, a preliminary joint venture of a mobile micro-finance network platform to deliver micro finance products and services throughout Botswana; preliminary establishment of the Botswana Arts & Music Festival; exploration of a joint business opportunity to facilitate the creation of new centers of wealth generation for the country of Botswana by developing and managing world class hospitality institutions; exploration of a world class medical school to be built; the establishment of an Institute of Medical Ultrasound to cardiac, vascular, general and abdominal training to provide advanced level care to expectant mothers specializing in evaluation, diagnosis and treatment of wide range of complications; and an agreement to implement a hair care product distribution company.
Honorary Consul General Shumake enthusiastically stated, "Get off the block! When the U.S. economy crashed, other places like Botswana were still thriving. We have to think about doing more business on a worldwide platform, versus only focusing on our neighborhood block. Think Botswana!" (http://www.botswanaconsulate.org)
Media inquiries, please contact Treavion Davenport, Director of Public Relations to the Honorary Consulate General of the Republic of Botswana via tdavenport(at)botswanaconsulate.org or phone: 1.855.444.7852 (PULA)
ABOUT THE HONORARY CONSULATE GENERAL OF THE REPUBLIC OF BOTSWANA
Honorary Consul Robert S. Shumake shall aid and protect the nationals of the Republic of Botswana visiting or residing in the United States. Michigan, Ohio, Wisconsin, Indiana, Illinois, Missouri, Iowa, Minnesota, Atlanta, Texas fall within this appointed jurisdiction. The Honorary Consulate General will promote the commercial interests and humanitarian efforts to the Republic. The core focus areas include; Tourism, Mining, Health, Education and Infra Structure.
# # #