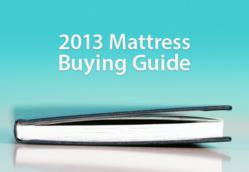 Tempe, AZ (PRWEB) March 09, 2013
Buying a new mattress typically involves a fair amount of comparison shopping and research, and one resource consumers often use is buying guides. Product review organization Consumer Reports publishes an annual mattress buying guide with tips as well as type and brand information. The latest article from Mattress-Inquirer.com takes a look the information provided in the latest edition and compares it with their own research.
The post, titled "Consumer Reports Releases 2013 Mattress Buying Guide," looks at the main mattress types, top selling brands, and pointers for those shopping for a new bed.
Mattress types discussed include traditional innerspring mattresses, memory foam mattresses, air bed mattresses, and the newer category of gel mattresses. Each type features a brief explanation and an overview of pros and cons as listed in the report. Mattress Inquirer also makes a note that latex is grouped with memory foam in the study, which they find to be problematic since all natural latex mattresses differ from traditional memory foam in terms of materials, feel and benefits.
The article lists the top five mattress brands in terms of market share, which include the familiar names like Serta, Sealy and Simmons, as well as specialty mattress retailers Tempurpedic and Select Comfort. This overview includes the price range and mattress types of each brand.
Shopping tips also feature in the article, with the blog providing information from Consumer Reports' guide as well as their own take. Topics addressed include how to compare different models, reminders to check return policies and warranties, and a debate about buying a mattress online versus in showrooms.
In the post, Mattress Inquirer aims to boost consumer awareness about mattress shopping and share resources for prospective shoppers. Their write-up offers a condensed overview of the information in the CR guide and a different perspective. The blog also offers several mattress reviews, brand comparisons and informational articles to further this mission.
Mattress-Inquirer.com is an informational blog that provides relevant and recent news related to the health, sleep, and mattress industries. In addition to covering new technologies, mattress reviews and opinion pieces, readers enjoy a variety of helpful educational resources designed to aid shopping and sleep quality.