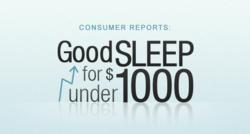 Tempe, AZ (PRWEB) March 10, 2013
Consumers face the daunting task of comparison shopping for mattresses in an market that often proves confusing and complex. Construction, composition, model names and pricing vary within single brands as well as across brands. Value and finding quality mattresses in affordable price ranges proves of utmost importance for many shoppers.
Recognizing this, BestMattress-Reviews.org recently released an article with shopping tips to help consumers make the best choices and find a good night's rest. Inspired by product review organization Consumer Reports' just released mattress buying guide, the post, titled "Consumer Reports 2013 Mattress Ratings Offer Tips on Getting Good Sleep for Under $1000" delivers on its promise as it provides insight to consumers who are tired of being pressured into purchasing something more expensive than they need.
The article begins with a basic overview of mattress construction including: innerspring, memory foam, airbeds and gel-infused mattresses. It lists the basics pros and cons of each type as outlined by Consumer Reports. Coverage of preliminary results released by the publication are also discussed.
Next the article provides comparisons of the top five manufacturers listed according to their sales share of the overall market. Bedding construction and prices for their queen sized models are provided, and mention is given to individual models from each of these brands.
Helpful shopping guidelines follow, as the blog looks at both Consumer Reports' recommendations and their own findings. Best Mattress Reviews argues the case for buying a mattress online, supported by their own research on mattress satisfaction, a Research Triangle International study showing people's difficulty selecting a mattress in showroom settings, and Consumer Reports' finding that 40% of shoppers experience buyer's remorse. Warranties and in-home trials with easy returns are presented as crucial when buying a mattress, and tips for getting a better price round out the section.
The article stresses the importance of shopping smart, comparing similar memory foam options for example: the Tempurpedic Simplicity and Novaform Serafina from the CR study, and the Amerisleep Americana plant-based memory foam mattress. It includes a reference chart which breaks down important features of the mattresses and highlights the importance of product research.
In closing, the blog looks at guidelines for replacing mattresses and again stresses the value of research. For people considering a new bed, the blog cites the importance of studies like that from Consumer Reports. The Best Mattress Reviews website also offers several comparison, review, and educational resources designed to assist.
BestMattress-Reviews.org is a blog dedicated to providing mattress and sleep product information. On the blog, independent industry professionals provide expert opinions and recommendations backed by research and customer reviews. The website aims to make the buying and research process a little simpler by collecting and analyzing information in a digestible, enjoyable format.