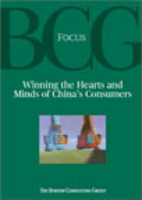 Marketers that can do that will find that their strategies will play out in profitable ways for years to come.
NEW YORK (PRWEB) February 4, 2008
According to research by The Boston Consulting Group (BCG), including a survey of over 4,000 Chinese consumers, Chinese people are ready to spend - but not the way global marketers expect. BCG's survey findings and qualitative research are summarized in a new report, "Winning the Hearts and Minds of China's Consumers."
Too many marketers are looking at China as a "just-add-consumer-goods," early-stage version of the U.S. or Western Europe. The ones that succeed understand how Chinese consumers' attitudes toward spending are shaped by Communist-era political upheavals, deep-rooted cultural biases, generational splits and the different economic conditions of China's many local markets.
Over the past 15 years, disposable income in China has risen three- to five-times faster than in the developed world. China is expected to become the world's third-largest consumer market by 2010, and the second largest by 2015. But market size isn't the whole story, according to the report.
"Overseas companies are treating China as a generic untapped consumer market. They're throwing so many promises and products at consumers, who respond by quickly abandoning one brand to try another. Companies need to shift their focus from footprint expansion to much more detailed strategies - based on real understanding of the massive changes in China and their impact on consumers - that ensure lasting brand loyalty," said Hubert Hsu, a BCG senior partner who heads the firm's Consumer Practice in Asia and a co-author of the report.
(The BCG report involved a survey of 4,258 consumers in 13 Chinese cities, conducted by BCG's Center for Consumer Insight in Asia. It was supplemented by focus group interviews, home visits and "shop-along" trips to watch Chinese consumers in action.)
Chinese Consumers Are More Cautious than Their Western Counterparts.
According to the survey, the majority of Chinese consumers - 48 percent - said they will increase their spending in the next 12 months - but by no more than 20 percent. Only 11 percent planned a greater increase, and 32 percent anticipated no change in spending.
The report attributes the caution to Chinese consumers' feeling pressured and insecure - especially those in their 40s, who were adults during the Cultural Revolution. For consumers in their 30s, stress about aging and work/life inhibits their spending. And even the so-called "little emperors" in their 20s report feeling pressured to start out their careers and marriages on the right foot. Savings rates in China are high - in part to make up for the lack of a social safety net. Only teens spend freely - but have less disposable income, according to the report.
Nonetheless, Chinese Consumers Are More Likely to "Trade Up" - but in Far Different Patterns - than Westerners
Nearly half - 47 percent - of Chinese consumers say they want to trade up, i.e., begin buying higher-quality items. Only 29 percent of U.S. consumers and 23 percent of European consumers express the same desire. But Chinese consumers are looking to trade up in different categories: In the U.S., consumers are most likely to want to trade up to better home appliances, and in Europe, it's apparel and footwear that lead. But in China, consumer electronics is the leading category. (66 percent said they would trade up in this area.) Consumer electronics rank only fourth in the U.S. and sixth in Europe, while personal care ranked third in China, versus seventh in the U.S. and eighth in Europe. Apparel and footwear - the leader in Europe - was eighth in China.
Marketers Should Think More About Selected Items - Not Categories
Marketers frequently think in categories, e.g., food and vehicles. But thinking and planning may need to be more specific when it comes to tapping China, according to the report. For instance, food and beverages is not a popular overall category for trading up in China: It ranks tenth out of a possible 10. However, more than half of those surveyed said they would trade up for baby food and for dairy products - citing concern for family and safety concerns.
"Trading Down" Is Important to Chinese Consumers - and They Do It in Ways Global Marketers Are Unaccustomed to
Chinese consumers "treasure hunt" - i.e., look for high-quality bargains so they can "trade up" in other areas - with many of the same techniques as Western consumers. That includes shopping online, using catalogs, buying knockoffs and tapping the wholesale markets. But they also take a uniquely Chinese approach - shopping with friends to negotiate group discounts, and shopping at "parallel sourcing" stores that offer identical goods sourced from lower-cost distributors, priced as much as 40 percent below the mainstream competition. China's complex regional distribution systems create price disparities that make such bargain-hunting possible. In general, China is a country with a market tradition thousands of years old: Chinese consumers shop for the thrill of the hunt and are very skillful hunters.
While Chinese Consumers Are Attracted to Brands, They're not Loyal to Them
To Chinese consumers, brand is a mark of quality and practical benefit, more than its emotional appeal. Faith in brands is offset by deliberation and research. Chinese consumers are willing to experiment with other brands and to shop around - a challenge for marketers when so many brands are entering the market. Word of mouth - peer and expert recommendations - counts for more than a traditional sales pitch. More than half - 54 percent - of Chinese consumers say they're interested in meaningful technical differences, and nearly half - 49% - say they want products that "give better results." When it comes to affluent consumers' predilections, they emphasize tangible benefits over cache: In consumer electronics, they want convenience, easy storage, reliability and durability, and in personal care, they pay attention to health benefits and quality ingredients.
Recommendations for Global Manufacturers and Retailers Moving into China's Consumer Markets
According to the report, manufacturers looking to maximize the potential of the Chinese consumer economy should:
-- Remember that there's no such thing as a typical Chinese consumer: Different generations have had vastly different experiences and therefore have different attitudes.
-- Do branding the Chinese way. Make sure claims are credible, and delivered credibly. Enlist consumers to serve as word-of-mouth brand ambassadors: They'll count for more than celebrities. Consider the value of an umbrella brand to serve as a mark of quality over a range of products. Always focus on tangible benefits.
-- Focus on innovation and improvement, not just price. Companies need to keep up the pressure on and maintain the pace of innovation and quality, to meet the demand for tangible benefits. Always keep an eye on consumers' special, local needs - for example, home products that create more space or the impression of more space.
-- Build brands region by region. Distribution and pricing vary widely - and so do local consumers' needs and priorities. Effective branding needs to reflect regional differences. In small cities, quality and durability should be the main focus.
And retailers should:
-- Stock up on products in treasure-hunting categories
-- Create in-store opportunities for treasure hunting, for instance, creating a layout that turns bargain-seeking into a fun experience.
-- Focus on service, not just selection. Service - especially service that facilitates treasure hunting and that answers questions about product benefits - will drive success.
"To win, companies entering China must really know Chinese consumers, and deliver experiences that drive the trading-up and treasure-hunting shopping trends," Mr. Hsu says. "Marketers that can do that will find that their strategies will play out in profitable ways for years to come."
To schedule a conversation with Mr. Hsu or other BCG experts, or to request a copy of the report, "Winning the Hearts and Minds of China's Consumers", please contact Alexandra Corriveau of Sommerfield Communications at (212) 255-8386 or alexandra@sommerfield.com.
About the Methodology of the Research
In the first half of 2007, The Boston Consulting Group's Center for Consumer Insight in Asia conducted a large-scale study of consumer attitudes and behavior in 13 Chinese cities. The study consisted of both qualitative and quantitative parts. The quantitative portion was conducted through in-person interviews and included more than 4,250 Chinese consumers, ages 18 to 50, from China's largest cities as well as smaller ones. The consumers represented annual household incomes ranging from US$770 to $7,700. The research was supplemented by in-depth qualitative research consisting of focus groups, in-home visits, and "shop-alongs." Cities represented in the study were: Beijing, Shanghai, Guangzhou; Chengdu, Jinan, Harbin, Xian, Nanchang; Datong, Jingzhou, Jilin, Chenzhou and Dandong.
About The Boston Consulting Group
The Boston Consulting Group (BCG) is a global management consulting firm and the world's leading advisor on business strategy. We partner with clients in all sectors and regions to identify their highest-value opportunities, address their most critical challenges, and transform their businesses. Our customized approach combines deep insight into the dynamics of companies and markets with close collaboration at all levels of the client organization. This ensures that our clients achieve sustainable competitive advantage, build more capable organizations, and secure lasting results. Founded in 1963, BCG is a private company with 66 offices in 38 countries. For more information, please visit http://www.bcg.com.