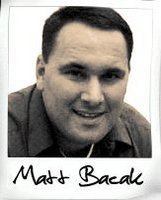 39 percent of the sites either took three or more days to reply or never responded
Suwanee, GA (PRWEB) July 25, 2009
In a day and age when it's becoming harder than ever to reach a live person, one Internet marketer is making it easier for clients to contact him.
Matt Bacak, known throughout the Web sphere as "The Powerful Promoter," has just added four new Web sites to his roster. Each of these new portals was designed specifically as a means for old and new clients to access him. Frustrated Internet marketers who would like to reach out and touch a real person can now contact Bacak in the genuine flesh at any one of these online locations:
http://www.mattbacaksupport.com/
http://www.contactmattbacak.com/
http://www.internetmarketingdirt.com/
http://www.howtocontactmattbacak.com/.
According to a nationwide consumer survey conducted by FastCall411 "8 out of 10 Americans have little patience for merchants who don't answer the phone - especially after repeated attempts to make contact." This market research survey of 1,000 adults revealed that more than 80 percent of respondents felt "that an immediate phone response from a merchant was either 'important' or 'most important' in deciding to give that merchant the business."
Individuals waiting on hold aren't the only ones who are fed up with the inability to get a response out of someone. Another study conducted by JupiterResearch "found that response times to customer e-mail inquiries generally worsened compared with [data from two years prior]." Over the course of the study, the company "sent test inquiries to 255 U.S. businesses with Web sites, 234 of which offer customer service e-mail support." The results revealed that "39 percent of the sites either took three or more days to reply or never responded" at all.
Internet marketers are notoriously known for being difficult to track down, but Bacak is hoping to change that perception. "I've been working my butt off to make sure anyone who needs to get a hold of me can easily find me. I have created these Web sites to make that correspondence easier then ever. I'm launching a Contact Matt Bacak campaign to ensure people who might have old e-mail addresses of mine or even old phone numbers always have the most up-to-date means to reach me," he explains of his rationale behind the new sites.
The launches aren't entirely selfless, however. Bacak also has a business-minded method behind his madness. "I want to make sure that all old and new clients have a way to access me. These sites were also designed so that anyone who is looking for help from me can contact my office directly. Whether it's to buy one of my products or even hire me to consult with them about my programs' cutting-edge techniques and strategies, I want to hear from them directly."
For more information on the launch of Bacak's new contact sites, contact Tamara Smith at (770) 623-3008. To obtain his latest contact information and to reach out directly to Bacak, visit him online at http://www.mattbacaksupport.com
###