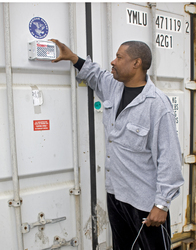 Moreover, this system illustrates when cargo is moving and when it is standing still. Cargo in motion is inherently more secure.
Tacoma, WA (PRWEB) December 3, 2008
To enhance inland rail supply chain visibility, the Port of Tacoma is testing a GPS tracking system that tracks intermodal containers from the time they leave waterfront terminals until they reach their destinations in the Midwest and Eastern United States.
Believed to be the first developed for tracking containers inland on rail from a U.S. port, the system allows Port of Tacoma intermodal planners to better understand inland rail issues and ultimately, work with railroads and shippers to improve the speed and reliability of freight.
"We will be able to proactively work with our steamship and rail partners to plan for the future and make sure that Tacoma remains a high-velocity transit point in the global supply chain," said Rob Collins, Port of Tacoma Manager of Transportation and Supply Chain Planning.
Joining the Port in the test project are BNSF Railway, ocean carrier Yang Ming Line and Edmonton, Alberta-based Safefreight Technology, the developer of the technology.
Since June 2008, when the Port began testing the container tracking system, Collins says his team in the Port's dedicated Planning and Regional Transportation Department has learned much about what happens to containers after they leave the Tacoma waterfront. "People have assumptions about cargo scheduling, routing and delivery, but when you dig into the data, many of those assumptions may turn out to be false."
A side benefit, according to Collins, is that systems like Safefreight's ultimately could lead to greater intermodal supply chain security . "I have long felt that the most secure supply chain is the most visible supply chain," he said. "Moreover, this system illustrates when cargo is moving and when it is standing still. Cargo in motion is inherently more secure."
The centerpiece of the Safefreight system is a very rugged, portable tracking device, originally designed for truck trailers and vehicle fleets. The system uses Global Positioning System (GPS), wireless and internet technologies to provide actionable data related to location, speed, direction, starts, stops and other metrics.
Curtis Serna, Safefreight's Chief Executive Officer, described his company's collaboration with the Port of Tacoma as "an amazing opportunity" into what amounts to a new application for his company's products. "We are very excited about the success of this project," he said. "We look forward to supporting the Port in continuing to provide a solution that helps them and their partners optimize the management and security of the intermodal supply chain for their customers."
The SecurityGuard tracking device measures five inches by three inches and three inches deep and transmits data wirelessly through cellular communications to a Safefreight server. The data is then made available to the Port over the web. When no cellular service is available, the device stores the data for later transmission.
Serna said that unlike tracking devices for truck trailers, which can be re-charged frequently or wired to a truck's power system, the SecurityGuard devices outfitted for containers can run independently for days or weeks at a time. "In addition to power management, it was important that the Port had a solution that was highly ruggedized and configurable 'over-the-air' in order to minimize device upgrades and maintenance," he said.
About the Port of Tacoma
The Port of Tacoma is an economic engine for South Puget Sound, with more than 43,000 family-wage jobs in Pierce County and 113,000 jobs across Washington state related to Port activities. A major gateway to Asia and Alaska, the Port of Tacoma is among the largest container ports in North America, handling an estimated more than $36 billion in annual trade and about 2 million TEUs (20-foot equivalent container units). The Port is also a major center for bulk, breakbulk and project/heavy-lift cargoes, as well as automobiles and trucks.
About Safefreight
Founded in 1998, Safefreight is the developer and provider of a GPS tracking system - SmartFleet®. This mobile asset tracking and management technology comprises a GPS tracking device with asset-to-Internet capability, wireless communications and a web based fleet management software. SmartFleet® provides the online tools to drive business performance by enhancing the safety, security and productivity of mobile assets.
###