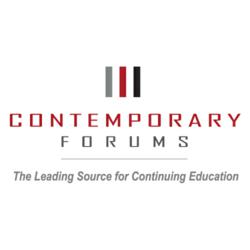 "Contemporary Forums is proud of its 30 year history of being a leader in providing high quality, clinically relevant CE for healthcare professionals." Pam Jenkins-Wallace, MS, NP, Vice President of Program Development
Dublin, CA (PRWEB) February 28, 2013
Contemporary Forums, the leading provider of continuing education (CE) for healthcare professionals, celebrates its 30th anniversary.
Looking back 30 years, Contemporary Forums was the vision of two dedicated individuals whose single goal was to offer state-of-the-art clinical information to healthcare professionals. Over 1,000 conferences later, Contemporary Forums continues to be a leader in continuing education (CE) and professional development.
Contemporary Forums has grown from an average of 10 national conferences a year to over 30 a year and is proud to have provided CE to more than 300,000 healthcare professionals in the United States and around the world. Their growth has continued with the addition of the Online CE Library (http://www.onlineCElibary.com), an on-demand resource that features over 1,000 presentations captured at their live national conferences and is continuously updated with new content. Contemporary Forums understands not everyone can travel to attend a conference and, through the library and live webcasts, remains committed to meeting the changing needs of healthcare professionals.
"Contemporary Forums is proud of its 30 year history of being a leader in providing high quality, clinically relevant CE for healthcare professionals. We thank our customers for their continued loyalty over the past 30 years and look forward to creatively meeting the educational needs of the health care team," said Pam Jenkins-Wallace, MS, NP, Vice President of Program Development at Contemporary Forums.
Contemporary Forums is celebrating the last 30 years by giving back to the health care providers who made Contemporary Forums what it is today. They are offering a $100 discount on any of their Main Conference 2013 Live Webcasts. Participants must use code: HPWC13 when registering. The following conferences are the 2013 conferences offered as a live webcast:
Psychiatric Nursing: March 13-16, 2013
Contraceptive Technology: March 14-16, 2013
The Fetus & Newborn: State-of-the-Art Care: November 7-9, 2013
For those participants attending the 2013 live conferences, the anniversary celebration continues on-site. Contemporary Forums will be hosting numerous raffles and giveaways, including free 2014 Main Conference tuitions and iPad Mini's at select conferences, as well as special anniversary themed items.
Contemporary Forums, The Leader in Health Care Continuing Education for 30 Years, looks forward to providing the healthcare community with quality continuing education for many more years to come.