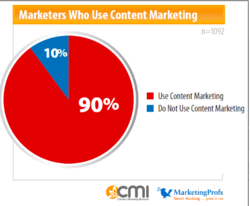 The key--and what leaders in SEO, social media, and lead generation are doing--is consistently capturing users by marketing interesting stories.
Austin, TX (PRWEB) March 27, 2013
Shweiki Media corresponder and CEO of The Content Marketing Institute, Joe Pulizzi, discusses with Shweiki in his weekly webinar about how businesses can transform their marketers into content publishers. Historically, small business owners have had to rely on an outside advertiser to publish content on their behalf. Pulizzi explains that in the digital marketing era, publishers and marketers are essentially doing the same types of things when it comes to content marketing creation (social media/interactive marketing/co-branding ventures). Businesses' customers aren't just cash cows anymore; they are an audience with opinions and views that, when voiced, affect both individual profits and fellow consumers.
Content through Storytelling
In today's digital marketing system, the most successful marketers are the ones who are great storytellers. When businesses look to compete for space in the vast Internet market, they need content that separates them not only from their competition, but from outside personal pages, news articles, and ridiculous YouTube videos. The key—and what leaders in SEO, social media, and lead generation are doing—is consistently capturing users by marketing interesting stories.
Marketers becoming publishers (sourced from the webinar):
▪ 79% of businesses are writing their own online articles
▪ 74% are creating their own social media content
▪ 65% write their own blogs
▪ 63% create their own eNewsletters
▪ 30% are using traditional media
Because most business owners aren't media content experts, consistently generating worthwhile content has quickly become the biggest difficulty digital media marketers face. (64% believe it's the largest obstacle they need to overcome.) What marketers should do is break their sales goals down into marketing packages. For instance, if one is having difficulties trying to market content for a Chevrolet dealership, they could focus their message down and just target Tahoe owners.
Another strategy to utilize is taking a quarterly visual content audit of everything posted so far. A weakness in most content marketers' strategy is that they post stories or articles that matter more to them than to their product's success. An audit gives marketers a chance to slow down and lay everything out on the table and really ask the question, is this actually working? If so, they can feel confident continuing the same trend or abandon it and try and find a new one.
Shweiki Media's mission has always been to help publishers improve by providing the most profitable, hassle-free printing experience possible. This includes--whether printing catalogs, magazines, calendars or anything else--guaranteeing the highest quality product, exceptional customer service and on-time delivery.
As a printer and publisher, Shweiki Media also believes that this hassle-free experience includes making their clients better. Utilizing relationships with industry experts, Shweiki Media strives to educate clients and help them thrive in the exciting world of publishing--while having lots of fun along the way!
For more great info from and about Shweiki Media, please check out shweiki.com, follow us @ShweikiMedia and "like" us at Facebook.com/shweikimedia.