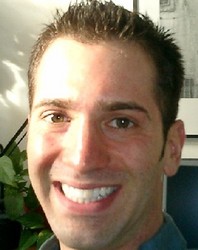 I talk about important lifestyle changes in my online continuing education course available at healthforumonline.com.
Philadelphia, PA (Vocus) July 21, 2010
Christopher Ochner, Ph.D., recognized author and obesity researcher will appear on the Coping with Caregiving Internet radio program on Saturday, July 24th. Dr. Ochner, An Assistant Professor of Clinical Psychology in the Department of Psychiatry at the Columbia University College of Physicians & Surgeons in New York, as well as a Research Associate at the New York Obesity Research Center at the St. Luke's Roosevelt Institute for Health Sciences, will be discussing causes and treatment of obesity and the challenges unique to caregivers of obese individuals drawing from his years of clinical research and his scholarly publications. Specifically, Dr. Ochner is the author of Implementing a Weight Management Program for Outpatients, a continuing education course available at HealthForumOnline, a nationally-approved provider of online CE courses for psychologists, social workers, counselors, nurses, and other allied health professionals. In his new book Asymmetric Brain Activation and its Relationship with Overeating: Insight into the Brain's Control of Hunger and Eating, published by VDM Verlag in 2008, Dr. Ochner extends his work to explore the brain behavior connection in the obesity arena.
In his interview, Dr. Ochner will elaborate on the genetic (e.g., Hypothyroidism) and environmental causes of obesity, the responsibility of the caregiver/parent in the childhood obesity epidemic, and what treatments (e.g., lifestyle and emotional changes) do and do not work. For example, the lifestyle change approach focuses on sustainable changes- changing the individual's relationship with food. Dr. Ochner notes that, "I talk about important lifestyle changes in my online continuing education course available at healthforumonline.com." Although this course was developed for caregivers in clinical settings, the techniques contained within can be followed by anyone struggling with or caring for someone struggling with obesity, as well as individuals wishing to prevent obesity for themselves or loved ones. It's about developing a new relationship with food, not going on a crash diet to lose a certain amount of weight. The focus is intentionally kept on food intake, as that is by far the largest determinant of body weight.
Although proper exercise is certainly healthy, individuals tend to compensate for the increase in energy expenditure by consuming more calories. What it really comes down to is ingesting fewer calories on a daily basis. The online CE course at HealthForumOnline describes ways to do that without feeling like you're giving up the one thing you could always count on to make you feel better. Asking someone to deprive themselves is sure to fail, but asking someone to change their relationship with that thing slightly is doable. And lastly, Dr. Ochner will discuss what someone who is caring for an obese individual can do to facilitate health; addressing how to motivate the elderly obese, who typically have a history of weight loss success and subsequent failures, and when medical options, such as bariatric surgery and RYGB, may be appropriate given other health-related issues.
HealthForumOnline's resource library incorporates continuing education courses that reflect a sensitivity to caregiver demands and an understanding of the importance caregivers play in a patient healthcare across the disease continuum -- whether it be in promoting health-related behaviors to prevent disease (e.g. adherence to cancer screening, weight management, smoking cessation), assisting with long-term management to improve adjustment to disease as is the case with illnesses such as diabetes, MS, or Alzheimer's Disease, or facilitating coping with end-of-life issues and bereavement. Specifically, HealthForumOnline's extensive library provides health professionals with nationally-approved online CE courses that are easily accessible and cost-effective, enabling them to assist patients and their caregivers in coping with illness. Specifically, in addition to Dr. Ochner's course, HealthForumOnline's CE library includes courses such as Anticipatory Mourning in Alzheimer's Family Caregivers, Bereavement: A Comprehensive Guide for Health Professionals, Cancer in the Couple: Clinical and Ethical Considerations within the Dyad, Experiencing Infertility: The Psychological Care of Individuals and Couples, Facilitating Adjustment in Families with a Chronically-Ill Child, Preparing Young Patients and Their Parents For Medical Procedures: Strategies To Reduce Distress And Promote Coping, and Self Care for Professional Alzheimer's Caregivers.
The Internet-based radio program Coping with Caregiving, hosted by Jacqueline Marcell an international speaker and author of the bestselling book Elder Rage, features four healthcare professionals and is heard live worldwide from 3-4:00 pm Pacific Time. To listen in, simply click on the appropriate On Air Listen Live button at the top of the web page. If you miss the live broadcast you can listen-on-demand to the archive anytime after July 26th.
###