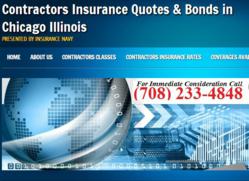 The special thing about this website is its comprehensive nature. Since the offering agency represents a large number of insurance companies and MGAs, the project has the ability to provide more competitive rates from several carriers
Cicero, IL (PRWEB) November 02, 2012
The Financial and economic downfall have affected all aspects of the construction business in the US. In Illinois contractors have found themselves in serious need to look for ways to lower the cost of running their business, including ways to find low contractors insurance rates in Illinois. For that reason, ContractorsInsuranceQuotes.net was established to allow contractors to find affordable contractor insurance quotes online.
Insurance Navy Brokers (INB), the insurance agency behind this new site indicated that the website is aimed at providing basic information about contractors insurance coverage and definitions as well as quotes and rate indications. Visitors can submit a request for a quote which can be provided up on the receipt of sufficient information by the agency's underwriters.
"The special thing about our website is its comprehensive nature. Since our agency represents a large number of Illinois insurance companies and MGAs, the project has the ability to provide more competitive rates from several carriers," Fadi Snenneh, Agency Spokesman said. The site lists 33 classes of contractors that the Agency specializes in. "Besides contractors bonds, the website offers the clients the ability to request quotes for Contractor General Liability, Contractors Tool & Equipment, Business Property Coverage, Commercial Auto, Workers Compensation, and Umbrella Insurance," Snenneh added.
Benefits of Using the Website
1. Ease of use. Most users can input the required information in a short period of time to obtain a quote.
2. Comprehensive offerings. INB represents several commercial insurance companies in Illinois. Regardless of the size and nature of risk, coverages and limits, INB will find a competitive solution.
3. Fast online contractors insurance quotes.
4. Low down payments.
5. Customer service by phone and online. The agency is open 7 days a week, from 8:00 AM to 9:00 PM
6. Convenient locations in the Chicago area.
ABOUT INB
INB is a leading provider of Illinois SR22 insurance, auto insurance, home insurance, and business insurance in Chicago. The agency represents a number of Illinois insurers and MGAs to market personal and commercial property and casualty coverage, workers compensation, commercial trucking and garages. The agency relies on professional agents stationed in several offices through the Chicago area.
CONTACT DETAILS
Name: Fadi Snenneh
Company: Insurance Navy
Address: 5116 West Cermak Road, Cicero, IL 60804
Phone: (708) 863-9000