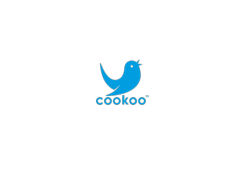 We've created a connected watch that extends the mobile phone without constant recharging, sacrificing the style and convenience of an analog watch
— Peter Hauser
Kenmore, Wash. (PRWEB) June 22, 2012
The popular Kickstarter project, COOKOO™ watch, approaches its 2,000th backer today with 14 days left, breaking into the top 20 highest funded projects in the design category.
ConnecteDevice, the company responsible for the creation of the COOKOO watch, will be giving away a Kickstarter Edition COOKOO watch to one lucky backer for being one of the first to support the project. They will be having contests on both Twitter and Facebook to increase the opportunities of the projects visibility.
The COOKOO watch has been gathering steam on the popular crowdfunding website recently due to its unique offering in the fast-paced smart watch market where it competes with such products as the record-breaking Pebble as well as the MetaWatch and Sony SmartWatch.
"We've created a connected watch that extends the mobile phone without constant recharging, sacrificing the style and convenience of an analog watch," said Peter Hauser, creator of the COOKOO watch. "It's humbling to be mentioned alongside the Pebble so often, but at the same time, everyone associated with this watch knows we've created something to be proud of."
The COOKOO watch's battery lasts up to an entire year using the energy saving power of Bluetooth 4.0 SMART technology and comes in six different colors and styles. ConnecteDevice has created a mobile app that works for both the COOKOO watch and COOKOO keychain.
"We are excited to bring this project to market and with over 2,000 backers, we are just as eager for the product's launch in late fall as they are," Hauser said. "The giveaway is just a small gesture to say thank you for the great support our backers have given us."
About ConnecteDevice
ConnecteDevice, with offices in Kenmore, Washington, is a cutting-edge technology and engineering company that has teamed up with world-class manufacturers and design experts to create the COOKOO watch and smart keychain. ConnecteDevice aims to deliver solutions to real-world problems using innovative technology and execution. The COOKOO watch is designed to be an extension of your mobile device using Bluetooth 4.0 capabilities. The engineering, design and capability of the COOKOO watch exemplify ConnecteDevice's attention to detail. For more information on the Kickstarter campaign, visit http://bit.ly/KSCookoo.
COOKOO is a registered trademark of ConnecteDevice Limited. Bluetooth is a registered trademark of the Bluetooth SIG and is used under license.
# # #