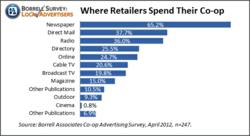 A lot of money is being left on the table when local businesses are not aware of the available co-op programs
Williamsburg, VA (PRWEB) May 18, 2012
In a report released this week, Borrell Associates estimates that co-op advertising has finally filtered into the digital media space to the tune of $1.7 billion in available dollars. Co-op advertising involves an agreement whereby a manufacturer (or distributor) will issue credits to a local retailer for advertising a certain product or brand.
The 40-page report, "Online Co-op Advertising: A $1.7 billion opportunity for SMBs," is based on Borrell's survey of 1,354 SMBs in April and May. The report details how brand managers are offering online co-op programs for local retailers, subsidizing everything from banner and search advertising to website development that help promote the brand. However, the report finds that among the 30 percent of SMBs that do take advantage of various co-op programs for their major product lines – including online co-op, they are often unaware of similar programs for lesser-known brands that sit on the lower shelves.
"A lot of money is being left on the table when local businesses are not aware of the available co-op programs," said Borrell Associates CEO Gordon Borrell. He added that, "local media outlets can help their advertisers, and themselves, if they use a consultative sales approach that probes into each advertisers' co-op program."
A Webinar discussing the findings will be held Tuesday, May 22, at 1:30 PM ET. For more information on the webinar or to download a summary of the report, click here.
About Borrell Associates
Borrell Associates is an advertising research and consulting firm that assists local media websites in maximizing their ad revenue. Borrell Associates helps media companies to develop and implement fact-based strategies and ad-sales tactics supported by our proprietary local ad-spending data through products such as the Compass Report that details local ad-spending patterns for 100 businesses across 13 media. In 2011, Borrell Associates acquired Belden Interactive, a leading survey research firm studying ad-spending intentions at the local-level by SMBs. With 18 employees, Borrell Associates is based in Williamsburg, VA with an additional office in Seattle.