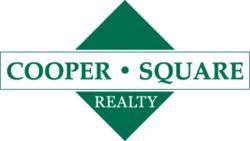 With a partner like Cooper Square Realty managing New York by Gehry apartments and extensive amenity spaces, residents can trust that every need is being attended to with the highest level of responsiveness and skill.
New York, NY (Vocus/PRWEB) March 17, 2011
Cooper Square Realty (CSR) has been named managing agent for the residential portion of Eight Spruce Street, the 76-story tower developed by Forest City Ratner Companies and designed by renowned architect Frank Gehry.
New York by Gehry is now the tallest residential building in the Western Hemisphere. With its shining stainless steel cladding shaped to look like draped fabric, it is an inspired addition to the Lower Manhattan skyline. Its exterior folds create some 200 unique apartment layouts and large free-form bay windows make the most of the building's unobstructed 360˚panoramic views. Residents of New York by Gehry will have exclusive access to a full-service concierge, a porte-cochere for vehicles, and 22,000 square feet of health, wellness, social, and entertainment amenity spaces.
Cooper Square Realty manages more than 400 properties throughout New York City, including the Plaza Residences. In the past seven years, the CSR New Development Group headed by Marc Kotler has teamed with developers to open 60 new luxury properties. With a Lower Manhattan portfolio including 75 Wall Street, The Setai, 88 Greenwich Street, 15 Broad Street and 20 Pine The Collection, CSR has already established a strong presence in the neighborhood.
"Frank Gehry's design inspires excellence, and in that spirit we're creating a new standard for luxury renting in New York City," said MaryAnne Gilmartin, Forest City Ratner Companies' Executive Vice President of Commercial and Residential Development. "With a partner like Cooper Square Realty managing New York by Gehry apartments and extensive amenity spaces, residents can trust that every need is being attended to with the highest level of responsiveness and skill."
Cooper Square Realty has decades of experience meeting the special needs of high-profile luxury high rise properties. "Eight Spruce Street's stunning architecture, expert construction, and unique layouts will be complemented by professionally trained staff who devote impeccable attention to every detail," said David Kuperberg, Chief Executive Officer of Cooper Square Realty.
"We're thrilled to be part of the most magnificent residential tower to rise in the city in decades," said Dan Wurtzel, President of Cooper Square Realty. "By doing what we do best, we'll ensure that living in New York by Gehry is every bit as amazing an experience as marveling at its exterior and enjoying its stunning views."
Developer Forest City Ratner Companies began signing leases in February for the initial complement of finished apartments. The New York by Gehry leasing and marketing team—Citi Habitats Marketing Group led by Cliff Finn, and Nancy Packes, Inc. led by Nancy Packes—believe this vibrant "vertical city" is arriving on the luxury rental marketplace at the perfect time, poised to meet a healthy demand.
New York by Gehry's amenities include a 6th floor Grilling Terrace with views of the Woolworth building, outfitted with cabanas, picnic tables and café seating. An adjacent Game Room is furnished with custom seating by Frank Gehry. On the 7th floor, a 50-foot swimming pool in a sky-lit space is surrounded by fully-retracting glass doors, creating a seamless expanse of indoor and outdoor spaces that includes a wraparound sundeck. Overlooking City Hall Park to the north, a large Drawing Room with a grand piano is adjacent to a Private Dining Room. Both can be reserved for resident events and serviced from a Chef's Demonstration and Catering Kitchen. A Spa Treatment Suite and state-of-the-art Fitness Center with views of the Brooklyn Bridge also are located on the 7th floor. The 8th floor offers Group Fitness, Pilates and Private Training Studios as well as a Library, a Tweens' Den, a Children's Playroom, and a Screening Room with Gehry-designed amphitheatre seating.
In addition to New York by Gehry's resort-like amenities, residents will enjoy the high style of interiors designed by the architect himself—from the striking sculptural concierge desk in the lobby to the apartment and amenity spaces' high-end fixtures and finishes as well as 15,000 square feet of exterior open space.
Link to photos: http://www.getodemilly.com/images/FCRC/New_York_by_Gehry-Eight_Spruce_Street_Dana_Collins_Cooper_Square_PR_Images_all_three.html
About Forest City Ratner Companies
Forest City Ratner Companies, a wholly owned subsidiary of Forest City Enterprises, owns and operates 31 properties in the New York metropolitan area including Downtown Brooklyn's transformative MetroTech Center and the acclaimed Renzo Piano-designed New York Times Building in Manhattan. Forest City Enterprises, Inc., an $11.8 billion NYSE-listed national real estate company, is principally engaged in the ownership, development, management and acquisition of commercial and residential real estate and land throughout the United States.
About Cooper Square Realty, Inc.
Cooper Square Realty, Inc. is the premier residential property management company in New York City. The firm offers property management, project management and energy management solutions. Cooper Square's portfolio comprises upwards of 400 condominiums, cooperatives, and rental properties with an aggregate value of over $6 billion. The company manages more than 70,000 residences that are home to more than 200,000 people. These include distinctive lifestyle properties such as The Plaza Residences, luxury residential towers such as 8 Spruce Street, new developments, prewar landmark buildings, and apartment complexes. Further information is available at http://www.coopersquare.com.
Cooper Square Realty is a subsidiary of FirstService Residential Management (http://www.fsresidential.com) which manages 1.2 million units in 4,600 communities throughout North America. FirstService Residential Management is a subsidiary of FirstService Corporation (NASDAQ: FSRV TSX: FSV), a global diversified leader in the rapidly growing real estate services sector. FirstService Corporation generates about $2 billion in annualized revenues with more than 18,000 employees worldwide. Further information may be obtained at http://www.firstservice.com.
# # #