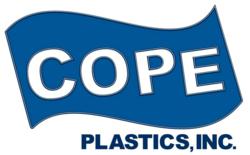 Alton, IL (PRWEB) March 05, 2013
Cope Plastics, Inc., based in Alton, IL, has hired John Lee for the position of Vice President of Sales. John M. Lee will be joining Cope Plastics beginning March 4th of this year to build on the current strength of its sales force.
John holds a Bachelor of Science degree from West Chester University in Marketing & Business Administration. He is currently finishing his MBA at the Huizenga School of Business at Nova Southeastern University with an emphasis in Sales Operations.
John also comes to Cope Plastics with over 23 years' experience in sales strategy and sales leadership. He comes from Comcast Communications where he had sole responsibilities for building a best in class sales organization while creating and implementing solid sales strategies and best practices.
John will be responsible for strategic planning, CRM utilization and implementation, new business development, recruitment and working with the Executive Management team as well as the entire sales team to provide short and long term sales objectives.
About Cope Plastics
Cope Plastics, Inc. is a leading distributor and fabricator of plastic sheet, rod and tube across the country. Whether you require engineering plastics, graphics materials, acrylics, polycarbonates, custom fabrication, design assistance or a multitude of other plastic materials and services Cope Plastics, Inc. is ready to offer you solutions! Our dedicated fabrication facilities and our industry leading machinists provide quality parts that will help your solutions become more efficient, more cost effective and more flexible. Visit us at http://www.copeplastics.com/ for more information.