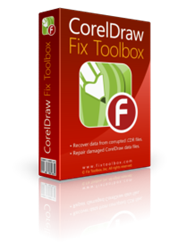 a powerful tool for recovering CorelDraw drawings from *.CDR files.
Alexandria, VA (PRWEB) November 15, 2012
Fix Toolbox (http://www.fixtoolboxx.com), a renowned supplier of award-winning solutions for efficient and intuitive data recovery from a number of formats, announces the recent release of CorelDraw Fix Toolbox, a compact, yet extremely accurate and efficient tool intended for the mass audience. The software offers unprecedented performance and relies on CorelDraw itself during data recovery, so the presence of a copy of CorelDraw on the user's computer is the only prerequisite for a successful Corel Draw fix.
The program has a very simple and intuitive user interface that requires absolutely no prior recovery experience and enables anyone – even people with basic computer skills – to efficiently recover graphics from corrupted CDR files. Recovered files can be directly exported to CorelDraw and the user can select the version of the destination file. This Corel Draw fix tool currently supports CorelDraw 10, 11, 12, X3, X4 and X5 and allows the preview of the contents of damaged files via the scaling function.
"Our tool offers a truly no-brainer method of restoring the contents of damaged CDR files," explains, senior software engineer at Fix Toolbox. "All you need is a damaged file, our program and CorelDraw itself. Start our Corel Draw fix tool, point it to the corrupted file, see what the program can extract from it and hit a single button to start the recovery process. You will see your lost drawings in CorelDraw within seconds! This product turned out to be very successful and we have lots of plans for it."
Software site: http://www.fixtoolboxx.com/
Product page: http://www.coreldraw.fixtoolboxx.com/