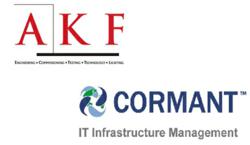 Realizing the value placed on Hands-On Service within AKF, Cormant saw a natural fit to provide customers of both companies with a tailored solution for optimal management of IT and facility assets - Paul Goodson, Cormant CEO
San Luis Obispo, CA, USA (PRWEB) March 28, 2013
Cormant Inc., a software development company specializing in IT infrastructure management and data center solutions (DCIM), today welcomed the AKF Group LLC as their newest Services Provider for the Cormant-CS DCIM solution. Leveraging some of the most experienced RCDD technology experts in the field, AKF will utilize the Cormant-CS DCIM solution to document and track all aspects of an organization's IT infrastructure in a turnkey service AKF has named Intelligent Connectivity / Asset Management™ (ICAM).
"This partnership's strength is greater than a sum of the parts because AKF will offer the Cormant-CS solution as part of a turnkey service to their customers, with Cormant delivering an industry leading DCIM solution and AKF delivering to their strength of engineering excellence for the lifecycle of a facility," shared Cormant Marketing and Business Development Lead, Michael Phares.
"Recognizing the need for scalable and adaptable infrastructure management while providing ease of use and security, AKF will utilize the Cormant-CS solution to provide our customers Asset Control Management, Inventory Tracking, Plan and Equipment Documentation, Power and Data Connectivity Documentation, Software Configuration, and Implementation and Training," stated AKF Senior Project Manager Brian Nguyen.
"Realizing the value placed on Hands-On Service within AKF, Cormant saw a natural fit to provide customers of both companies with a tailored solution for optimal management of IT and facility assets," said Cormant CEO, Paul Goodison. AKF Principal Greg Roberts added, "We operate from a team approach, working closely with clients to produce fully documented and highly integrated solutions. We believe in a hands-on approach during the implementation process."
For more information about AKF Group LLC and their Intelligent Connectivity / Asset Management™ (ICAM) solution leveraging the Cormant-CS DCIM solution, please visit http://www.AKFGroup.com, email sales(at)akfgroup(dot)com or call +1-212-389-2686.
For more information about Cormant and their Cormant-CS DCIM solution, please visit http://www.Cormant.com, email sales(at)cormant(dot)com or call +1-805-747-4178 or 1 855 CORMANT.
About AKF Group LLC
AKF Group LLC is an award-winning professional services firm providing engineering, commissioning, testing, technology, sustainability and lighting design services. Established in 1989, the firm serves clients in the private and public sectors and is headquartered in New York, NY with additional offices in Arlington, VA; Boston, MA; Columbus, OH; Princeton, NJ; Philadelphia, PA; Stamford, CT; Minneapolis, MN; Rochester, MN; and Mexico City, MX.
AKF's success is built on maintaining long-term relationships with clients throughout the life cycle of their buildings. AKF is recognized by clients and colleagues alike for their innovative design approach, their commitment to environmental sustainability, and for translating engineering opportunities into total, practical and technically superior engineering solutions.
AKF operates as a single, firm-wide team and each engineer on a project has access to the firm's total pool of knowledge and skills.
About Cormant, Inc.
Cormant has been developing and growing its IT infrastructure management solution for the data center and beyond (DCIM/ITIM), solving challenges for global customers since 2001. Their solutions are sold globally with customers on 5 continents, including multi-nationals from the banking, consulting, IT, travel, hotel, government, manufacturing, health and telecommunications industries.
Cormant's DCIM solution enables accurate and rapid decisions when planning and making IT infrastructure change by providing a configurable, portable and trusted solution for monitoring and management of physical layer IT infrastructure in all areas where IT is present. The solution provides unique portability of all records, ensuring information can be accessed wherever and whenever needed as well as changes recorded wherever and whenever they are made. Cormant-CS™ consolidates all information about enterprise IT assets and related connectivity, including power and data connectivity, along with location and status information about the assets. With dynamic rack views, floor plans and historical dashboards, information can be visualized in real-time.
###