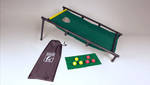 ...can't wait to see this game popping up at tailgates next to the ladder golf and cornhole games across the country
Canosburg, PA (Vocus/PRWEB) March 29, 2011
Tailgate Golf enters the marketplace as the first of its kind golf game that marries both cornhole and ladder golf into a fun and competitive golf training aid. There is an introductory sale with free shipping now available on their website. A visitor to their site can bundle Tailgate Golf with Putter Around The House, a product that combines 2 shuffleboard games and bocce with golf putting, to save even more. Both products can be purchased to work on chipping and putting skills, challenge friends at a game, or as a great golf gift.
Tailgate Golf began as a simple idea by a golfer/ inventor, who now has grown his invention idea into a product that all golfers and their friends and family can enjoy. A careful market introduction plan for the cornhole and ladder golf invention idea was developed with the exclusive guidance of the Montgomery IP Associates team, based in Canonsburg, PA.
Tailgate Golf knew that they had a winner on their hands when their first prototype was met with rave reviews from golfers, non-golfers, and those who like the cornhole and ladder golf games. They sold out of their initial prototypes and could not keep up with the demand. Like many inventors, Tailgate Golf was eager to get their invention idea launched but was not sure where to start. In order to handle all of the different tasks such as patenting and marketing an invention idea, Tailgate Golf decided to work with Montgomery IP Associates to help get their golf training aid invention off the ground.
"Everybody that saw this product loved the invention immediately and thought that it would be a huge hit," explains Neil Montgomery, VP of Sales and Marketing with Montgomery IP Associates. "But that is only half the battle. Executing an affordable strategy to get there is the real challenge."
The journey for Tailgate Golf started as just an invention idea when they contacted InventSAI, a company that consults and researches invention ideas for individuals. A patent search showed that combining cornhole or ladder golf with a golf game had not been done yet, which resulted in a patent being filed by Montgomery, Patent, and Design. The next step for Tailgate Golf was getting the marketing materials and product sourced through Ad-Gen, a marketing company that assists inventors with getting their new products to the market. Each of the companies listed above work as individual entities under the Montgomery IP Associates umbrella which serves as a 1 stop shop for inventors and entrepreneurs.
"Tailgate Golf has reached this milestone because they had a clear plan of action that included technical, legal, and marketing," explains Robert Montgomery, founder of Montgomery IP Associates. "We are excited to work with this product and can't wait to see this game popping up at tailgates next to the ladder golf and cornhole games across the country."
About Montgomery IP Associates:
Montgomery IP Associates is the control company of a group of related entities - InventSAI, Ad-Gen, and Montgomery Patent and Design- whose mission is to provide coordinated, professional services to inventors to help launch their new products onto the market.
###