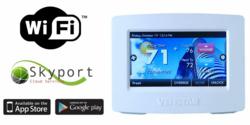 This video helps business owners and managers see the amazing features of the ColorTouch commercial thermostat and learn how to use ColorTouch to better manage and save on energy use
Burbank, CA (PRWEB) March 18, 2013
Venstar Inc., in conjunction with 981 Media, today introduced its "Commercial ColorTouch® Thermostat Intro" video, which demonstrates the thermostat's unique and easy-to-use features, including remote access from mobile devices.
To watch the video, visit: http://www.youtube.com/watch?v=J85DTQX2jmo
Venstar's new ColorTouch commercial thermostat with the Skyport ™ Wi-Fi Key lets users control their commercial environments from their mobile devices via Venstar's Skyport cloud services. Compatible with Apple iPhone®, iTouch®, iPad®, BlackBerry® (OS 10), Android™, Mac and PC devices, the ColorTouch commercial thermostat with Skyport Wi-Fi Key is priced under $250.
The ColorTouch commercial thermostat is multi-functional, simple-to-use and richly featured. Its programmable scheduler keeps occupied periods comfortable while reducing energy use for unoccupied periods. Its color touch screen can be set up to show company logos, ads and promotions as well as a picture gallery of up to 100 files to be used as a slideshow. The ColorTouch commercial thermostat is compatible with virtually every type of commercial heating and air conditioning system.
"This video helps business owners and managers see the amazing features of the ColorTouch commercial thermostat and learn how to use ColorTouch to better manage and save on energy use," said Austin Brooks, the creative director at 981 Media. "Just telling users how the ColorTouch can help their businesses is never as effective as showing them, which is exactly what we do in this new video that was created to help business owners understand just what ColorTouch can do."
With more than 3 billion hours of videos watched each month on YouTube alone, the demand for video is increasingly becoming an essential part of online marketing and education.
To view all of the Commercial ColorTouch videos, visit http://www.venstar.com/tv/.
About 981 Media
981 Media is a Corporate Video Production Company and online marketing firm that specializes in helping business succeed online by creating innovative websites, videos, mobile apps and online marketing campaigns.
About Venstar
Founded in 1992, Venstar Inc. is a leading thermostat and energy management system (EMS) supplier, known for providing value to its customers via ease of use and installation, proven cost savings, improved energy efficiency, quality and reliability. Venstar is one of the largest thermostat suppliers in the world and designs and produces Venstar-branded products, as well as OEM thermostat products for the biggest names in HVAC. Venstar's Surveyor is a leading energy management system, typically saving small-box retailers 25 percent of their energy costs, which translates to millions of dollars in savings and dramatic reductions in C02 emissions. Surveyor currently controls the energy usage of more than 15,000 retail locations across the United States, Mexico, Puerto Rico, and Canada.
Visit Venstar: http://www.venstar.com