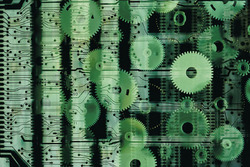 Because failure isn't an option
Braintree, MA (PRWEB) September 24, 2009
Much of the electronic chip and wafer production has left the United States for industrial areas where they can be manufactured more cheaply. The concern now is for companies responsible for items requiring high reliability, such as an expensive satellite that must perform in harsh conditions, where failure can endanger many. Or a product like a pace maker - a heart patient deserves the comfort of knowing that the defibrillator or pacemaker installed in his chest is reliable - his life depends on it.
Mini Systems, Inc. in Attleboro, MA, is consistently called upon when trustworthiness and high performance are required for a broad range of applications such as: the aforementioned satellites, medical equipment, spacecraft, and military gear. From it's inception in 1968, MSI has been a leading manufacturer of precision thick and thin film resistors, capacitors, metal/glass sidewall packages, custom thick film hybrid circuits and multi-chip modules. Reliability is their specialty.
Mini Systems Application Manager Dave DiRaffaele notes that MSI has been storing their chips and wafers in Static Intercept bags for well over ten years. Some of MSI's products require corrosion and degradation-free storage for that length of time. DiRaffaele stated: "We would typically see corrosion if our products were left unprotected; especially on aluminum. For over 10 years Static Intercept bags have worked very well protecting our products. In addition, we love the idea that we don't have to nitrogen back flush storage containers like we had to before."
According to Liberty Packaging's VP of Sales, Joe Spitz, Intercept Technology products provide storage protection that is as consistently dependable and efficient as the user needs; short or long term. Intercept products do not rely on unstable chemicals that can outgas to provide corrosion and electro-static protection; Intercept is a solid state, clean material. After laboratory and real life testing, MSI changed to Static Intercept zipper bags for their storage and the change benefited their operation in numerous ways. But most importantly, MSI can store for any length of time, inspect, and place back into storage using the same bag.
Intercept products protect all metals and materials, so any product stored in Intercept is safe. Spitz notes that MSI continues to use Static Intercept packaging "Because failure isn't an option".
###